View from the Shelf
October 24, 2011
Through the past two years, there is one thing that I've discovered: there is a hierarchy of toys. Yes, just as in the human world, we toys judge each other for who we are. At this dingy little toyshop in the Kingsford Smith International Airport in Sydney, Australia, these hierarchical lines are quite pronounced. Maybe it has to do with the fact that none of us really gets much adventure. In fact, most exciting part of our day is watching that Qantas Airlines flight depart to Brisbane at10:45 AM from Gate 18C, and arrive again at 9:30 PM. The rest is just filled with sitting, cooped up in the corner of the shop, glancing at hurried travelers, hoping that one of them might have a spare moment to step into the shop and buy a toy for their nephew they're about to visit. At any rate, most of us are quite sick of each other's presence, and therefore tend to harbor harsher feelings towards each other.

At the top of toy pyramid are the toy soldiers, whom I absolutely despise. The snooty little slabs of wood are probably the most self-absorbed toys in existence, always shining up there little guns and flirting with the dainty little porcelain dolls. These ones always end up in the display window and actually are sold. Apparently, it's because they "catch peoples' eyes." Yeah right. Just down from them are the toy cars and trucks, followed by the "cute" stuffed animals like the tigers and teddy bears. Towards the bottom are the cheap toys that break after one day of owning them, like the yo-yos and slinkies. And sadly, at the very bottom, in the most abandoned and forgotten position in the store is me.

It's really not my fault; I can't help who I am, so I blame the nutcases who seemed to think that inventing me was a good idea. Usually TV show characters are quite popular toys, but unfortunately, that's not the case for me. You see, I am not a huggable purple dinosaur, or a feathery yellow bird, or a Teletubby with a TV screen on my stomach. No, I am a banana. For some reason, there exists a producer in this country with the notion that sticking a pair of bananas in blue, pinstriped pajamas and calling them B-1 and B-2 would be a career-maker. Obviously not. Which little kid wants to hug a toy with the same name as a vitamin? Certainly, no child would choose me over a cuddly koala.

So that's how I ended up shoved in the back corner of the toy pile at this shop in an airport. I have come to accept the fact that I am destined to either sit here for life or eventually face an undesirable encounter with the greatly despised garbage disposal unit. Maybe if I had a friend, I would be a little more hopeful; the loneliness really gets to me. My friend B-2 was sold about a year ago, and since then I have been consistently cursing the guy who took just him instead of the pair of us. Mind you, the guy did think B-2 was a dog toy, so he has probably been ripped to shreds by now anyway. But either way, sometimes it's nice to know you're not alone. Now if someone knocks me off the shelf, no one notices. A couple of weeks ago, a little boy came in and tossed me on the ground as he was leaving the shop. I sat there, with my insides rotting away under the table for 5 days when finally, the shopkeeper found me while cleaning the store and placed me back on my shelf. Most of the other toys think I'm not trying hard enough, that I should make a larger effort to be sold. I can be charming when I want to of course, but I really don't bother trying anymore. The smiling is starting to hurt my face. All in all, my fate is probably the worst in the toy world. I dream of being sold, of being held in the arms of a kid with a smile stretched across their face, and even of having the special title of "favorite." Someday perhaps, but for now, I envy those who do.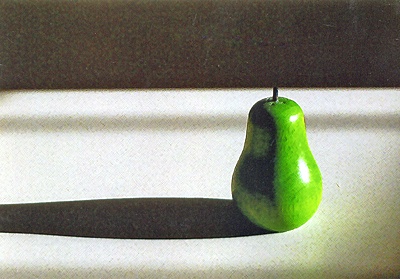 © Maria A, Glenn Dale, MD