Imagine
October 8, 2011
There's a boy living over in Utrecht. People say they've seen him, say that his hair is white like the sun and that he has glinting dark amethysts for eyes. Others claim that his hair is blue; and some say that is eyes are that color as well. But none of that matters because there's a boy living over there.
There's a boy living over in Utrecht and he imagines things. He shuts out the smog and filthy ground of Interstate 23B, where he sleeps. He escapes from the honking, the whir and grind of fiery cold steel with one daydream, one idea that spirals and spirals into an entire world all to his own.
The boy on the highway doesn't live in a world full of tension and hurt. He lives, thrives really, where there are myths like grass, trees, clouds. He spends months spread eagled in the caress of prairie grass, listening to nothing but silence. Sunbeams slip through cracks in his cover and dance their way across his body. Often, the boy's laughter is the only sound in the world.
On other days it is the boy who is dancing. He climbs with the wind through a slew of gemlike colors, following its sporadic ebbing and flowing through delicately stubborn branches. Only from the highest point in his forest does the boy see showers and showers of red, gold, orange, green spiral to the ground, creating a tapestry of color.
But when the boy pries open his eyes, he finds himself lonely on the ground of Highway 23B. He doesn't see his sunbeams through the smog, nor does he remember what if feels like to move to something other than the pedantic factory thumping next door. The boy's tear sparkle and cry amidst the black and white of Utrecht. They are the only emotion in the world.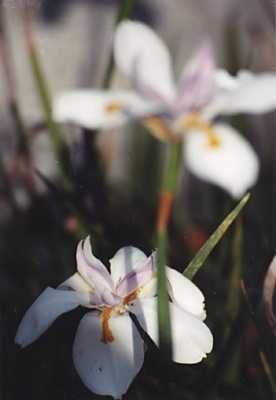 © Rusty P., Balch Springs, TX