The Boy Named Hope
October 7, 2011
I glanced at the solemn sky and prayed for rain. It was a vain hope; I knew no rain would come. I had lived here, in this waste land for two weeks. Two long, never ending weeks. I lived here by myself. I had no idea how I had gotten here, I just remember waking up in the dark.
The only thing here that comforted me was the memories. I had very few, but I treasured them. There were places, small pictures –like a glimpse of something- that had no apparent meaning to me. And then, there were the faces. They were nameless. I had no obvious reason to even remember them, but they were the strongest memories.
Every time I saw them, a feeling in my stomach overtook me. I felt as though I should know who these people where, and I should know what they meant to me. But I didn't. A single tear slipped down my cheek as I remembered my favorite memory; the one I cherished above all others.
It was a small boy. He had light brown hair, and a small patch of freckles around is nose. His smile; I wanted desperately to know why he was so happy. He had large, chocolate eyes that seemed to smile too. I could hear the laugh that escaped from his mouth; it was like velvet, or a babbling stream. It bubbled forth and brought so much emotion to me, and it made me even more frustrated that I could not remember him.
I had searched the entire house, looking for something that would give me some clue as to where I was. This place was in my memories, but again there was no name. It was a small house that was connected to a barn, nothing special about either. The house was faded in contrast to my memories; something tugged at the back of my mind. Something had happened here. I could tell.
I went to the small pantry and grabbed a can of peaches. Whoever had lived here before had stocked up on canned goods. I had plenty to eat, but I was quickly running out of water. There had been two small barrels in the cellar that contained water when I had arrived, and I was already on the last one. None of the faucets worked, and rain had not come.
I spent my days going through the house and barn, trying to find something meaningful. I wandered into the barn only half thinking about what I was doing. I knew I would not find anything here. if there had been anything, surely I would have found it already. I ran my fingers along the groves in the wall absentmindedly, thinking of the boy from my memories.
He appeared in many of them; always laughing and smiling. There was only one memory where he was sad. I wanted to know why he was upset, just as much as I wanted to know why he was happy. His sad eyes seemed to bore into my soul; I immediately shoved the memory back.
Then I felt it.
Something had changed in the grove of the wall. I backed up and looked.
A small square the size of my fist was flat and different than the rest of the wall. I pressed it several times and finally, it gave in. inside of the hole was a single picture. It was of the little boy in my memories. I remembered this one; it was my favorite memory of him. The one I thought of the most often. I looked at the bottom of the picture and felt a wave of emotion. A single word was scrawled on it, and that word gave me something I had been looking for since I got here; hope. I clutched the picture to my chest and cried, for the boy in my pictures was no longer nameless.
That was my brother. He was my hope.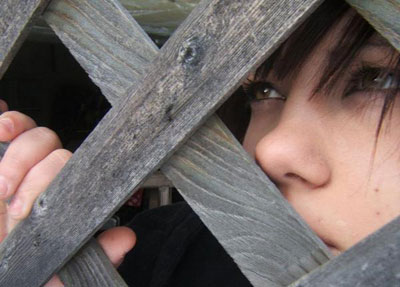 © Krystal B., Bloomingdale , IL