Internal Breakdown
September 26, 2011
I feel like I am over flowing. The vaults I keep so perfectly locked and sealed are bursting like a dam. Every moment feels like a year. My stomach rejects every drop of saliva that slips down my throat. My nerves are getting to me now. They can't. I refuse to allow them.
No one gets it. Then again nobody really tries. Sorting through my mind is like sorting clothes at a Salvation Army, it's messy and unorganized. I don't have a clue what I'll find. Sometime clothing will have huge stains and holes. Lightly used clothes are passed by. I can't seem to find any value to them. They're just extra pieces of cloth I have kept for god knows what reason. The brand new items can be seen like oceans from outer space. They scream out to you with such precision and clarity. You can picture every detail with ease. My head feels heavy, as heavy as all those black plastic garbage bags that hold the clothing for the donation centers.
Everything becomes fuzzy and confusing. I become surrounded by everything, anything…nothing. All at once things aren't what they seem. Memories morph into events I'm not familiar with. Details lost in the hurricane of thoughts that tacks over my mind. People I once believed were friends are now unfamiliar strangers. People I am afraid to talk to, never mind trust. They're out of place and nothing like I'm supposed remember.
I forget about myself. Mind goes blank and before I know it I've lost myself. Who am I again? And I'm supposed to enjoy doing that? Never. I would never willingly do that. This isn't me. Then again I don't know who "I' am.
I don't feel good like this. You treat me terribly. You aren't the person I want to remember. You're someone that I'd never allow myself to get close to. Why do I waste the short time I have with you? This isn't what's best for me. I know this. I'm not amused. This isn't funny. Who ever borrowed me and turned me into this person needs change me back. This isn't who I remember being.
But then again who really cares about me, I only have that reflection in the mirror to watch out for me. That's about it. The person in the mirror is ominous, her eyes unfamiliar. The passion that once shown like a glow stick in the dark has now faded to a faltering ember. She's lost the desire to try. I can tell it was once there but where it went I'll never figure out. The confidence that rooted her to earth has been flipped into insecurities that force her to rely on aggression and rage. She silently lashes out. She throws a tantrum, kicking and screaming, but know one ever realizes it. She conceals it well.
This girl used to love herself. She used to relish in the feeling of being in her own skin. The feeling of self worth would tingle over her body. She's lost herself within the maelstrom that is her mind. Each sensation and every memory is amplified.
I need to stop caring. Stop the frustration of being what people deem fit for me. Rip away from everything I am now. Every fiber of my being needs to be renewed. There's so much change and adaptation that must take place. Like a snake I need to shed my skin. Remove this old, unhealthy layer of myself. I must take the time to sit down and sort all the clothes I have stored in the garbage bag called my mind. Try things on for size. Decide what looks good and more importantly what feels good on my skin. Then when I'm ready, I need to find, deep within myself, the will to throw away every ratty piece of clothing. Get rid of the shirts that are just taking up room. Destroy the pants that don't fit quite right. I'll keep everything that makes me feel like me again.
If only I knew how.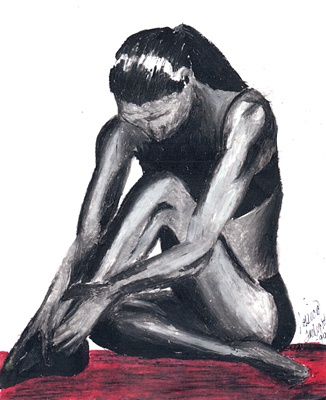 © Jessie Y., Ahwahnee, CA