Sometimes Alone Sometimes Cold
August 31, 2011
His eyes pace the 4x4 blocks of crumbling gray and black ground to his bus stop. His shoes are always the same. He notices them everyday. In those white strips of rubber and fabric, he finds his only ally. When he is afraid of their eyes he resorts to the ground or to this old pair of reeboks with paint splatter on the sides. He is tinman. How he wished his heart would pump arctic snow rather than the easy rhythm of red leather and brittle grass. He wanted for his spinal chord to drip revenge like gasoline onto a lit match. He didn't want to be vulnerable, just to be able to write his name in cursive without being disgusted by its composition.

If he had a set of clean english feet with the right shoes on them he would walk upside down from gracefully slipping sickles just to understand how they coped with being around each other too often. his body was wrapped in an unsafe complexion of soft brown with hair that clumped up in places and then shakily poured around like a skipping stone on a puddle of dirty water. His face was an oval bicycle basket all weaved together and frayed in places. It pins itself down with switchblades at the corners where his broad teeth begin to escape his mouth. Every cellophane smile he conjured was sure to be ignored along with his coat pocket thunderclap and a wish for three points of breathing for his abdomen like an insect.

He lurches his shoulders up around his body like a pigeon might do when the air is chilled and no-one has any breakfast to spare. There he waits and boards a yellow zodiac sign whose only relationship with the horoscope is a premonition of worse days to come. The back seat is always taken by the more entitled children, so he sits in the very front. He doesn't want to ignore the street signs like he's ignored. After fourteen minutes exactly he stops the timer on his watch and gives dirty looks towards the bus-driver for her tardiness. She acts like nothing even happened.

His waning crescent face wants nighttime back. For now he will sit for some time not opening his eyes. He moves from his solar plexus towards the dining hall. Off the stairs of the bus he walks taking concrete and pewter knives with him inside every step. His heart is pounding its own magnetic fields full of windstorm and ice chips. When he opens the door to the school his mind is a slate of black. He takes a seat and pushes with his face into his book bag so that his eyes are covered by a swirling dimension of liquid spikes. He relaxes himself, unmoving, until it is time to go to class.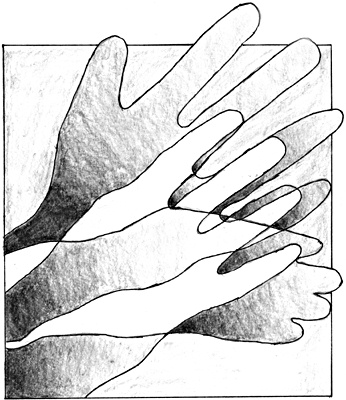 © Dawn Grace R., Barrigada, Guam