Watched & Protected But Why? Chapter 1
August 12, 2011
The sun was slowly rising and I hadn't slept yet. I think by then I looked sleep deprived. Sleep was beyond my worries. Things felt weird everywhere. Like I was being watched. I looked at the clock [5:59 AM] shuffling to the shower. After scrubbing myself clean I chose my wear for the day.

Black skinny jeans, white tank top with a sleeveless hoodie. I slipped my vans on and did my corpse paint. It helped me not look tired. After darkening my pink lips with black lipstick. I got my messenger bag and waited outside for Blair to come get me.

Blair drove fast and careful. She had did her corpse paint too. Her eyes looked more smokey blue-gray with the paint. When we got to school the girls were ready to rip us apart. We walked up looking deadly. The lead girl Amber Blake said a snippy remark. "The cemetery is two miles up the street."

Blair just walked pass her to the doors. I on the other hand gave her a creepy glare and snarled at her when a crow landed on her should and bit her face causing her to scream. I walked away not caring if anything helped to her or any of the drones that followed her. At least the school's camera can prove I didn't do anything.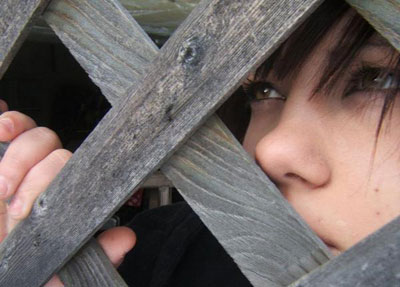 © Krystal B., Bloomingdale , IL