A Day of Memory
August 5, 2011
An elderly man sat on the porch of a small, single story house that was made of brick. A slight breeze crests a bright green valley of Irish farmland. He could hear the sound of sheep as they grazed on the distant hillside. The smell of rain was in the air yet no sound came from the metal roof. With each breath, a tingle came to the man's nose. Such a dark day, thought the man.

A bell rang from a distance. It continued to ring, each time getting closer. After a while, the bell registered in the man's mind as a bell that was usually attached to a bicycle. The man smiled at the knowledge of who it was coming up the road.

"Hello, grandpa!" Came a familiar voice. He heard the bike hit the ground followed by the sound of feet hitting the ground to a rapid beat. The beat progressed to the wooden porch till arms wrapped around his chest. "Hello, Rosie."

"How is your day looking, grandpa?"

The old man chuckled. "Dark as ever, Rosie, dark as ever…"

The arms slackened their hold. "Well, hopefully a cup of tea will brighten your day."

I doubt it, the man thought. However, he didn't argue. There was no arguing with Rosie. Once she got an idea in her head, there was no changing her mind. She was like her mother in that way, always stubborn. She is going to be a handful for some guy one of these days.

"Here you go." Came her feet against the floor. A cup with a handle was forced into his hand. The cup was warm against his hand. A chill ran down his back. "Thank you, Rosie." He took a sip of the warm water. It tasted like raspberries with a hint of vanilla extract. The flavor reminded him of his hometown. The pleasant smell that lofted between the buildings as you walked down the street. The arena on the outskirts of town. The popular sport that was shown in it every Friday night. A sport which he had participated in before the accident. Before his eyes were gored by the sport. When he used to ride bulls for fun.

"Grandpa? Are you okay?" Came a distant voice.

"Yes, darlin'. I am okay." He lied. He missed it. He missed the thrill of getting tossed around while holding on to the animal. All he had now was the "baaa" of sheep and his granddaughter. That was enough, but oh how he missed the days of riding bulls.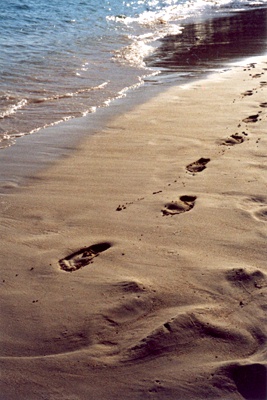 © Ashley B., Potomac, MD