When I Look at Myself in the Mirror
August 5, 2011
Cinderella; that's what my father picked. Not Joanna, Bethany, or even Mary Sue. It almost makes me glad that he's dead, but then again, he left me with this moronic lady and two hideous stepsisters that don't even warrant a further description. My name is elegant and can be thought pretty, but to these people I'm like an ashtray for their lovely little cigarette butts. I give them a place to stay and a cold shower in the morning, and they don't even do their jobs. All of them are rude, cruel, and utterly incapable when it comes to following orders. I mean, when I ask them to trim the lawn, I don't mean "leave out a few blades of grass", and when I say "give me my lemonade," there's a specific water-to-sugar ratio that only idiots can overlook. My father was all too kind about their laziness… but I take after my mother.

Today I'm going to town, running a few errands. People smile, synthetic smiles, and they offer me only the very best, most expensive products. As I grace them with my presence, I hear them say "she's rich"—and it's true. I hear them say "she's horrid"—and it's true. I hear them say "she's the devil"—and it's true. My mouth twitches into a smile, dripping with disdain. I have to do whatever I can to keep these squalid commoners in their places.

Once I pick up my ball gown from the tailor, a puny shrew of a man, I return home for my fitting. My stepmother enters, worn down, with bags under her eyes like the stormy underbellies of clouds. I scream at her; she's late, and I need every possible moment to prepare for my ball. Only the greatest of the nobility are invited, meaning the richest suitors. Needless to say, it's required that I look the part.

The hour grows closer until the moment at which I arrive, poised perfectly at the top of the grand staircase, suspended above a sea of blank faces. Every mask turns in my direction, all conversations petering away in response to my majesty. I'm the first woman with an offer to dance when the pitiful quartet begins to play.

I weave my way between suitors, quickly dismissing some and altogether ignoring others. It's practically midnight and every one of my fifty or so dance partners have completely lacked the right feeling. They're noses are too large, lips too thin, eyes too small. They're all unattractive.

They compliment me, but I know I'm flawless. They talk about themselves—things that I couldn't give a rat's ass about. I feel my face draw tight beneath my mask, my eyes narrowing. As the commoners would say, I'm bored as hell.

But then he comes, lifting me off my feet for one of the slower songs, gracefully leading me into the lull of the music. He's an experienced dancer, and undoubtedly rich—he's wearing a mask of ivory and gold atop a silken suit dotted with medals and velvet ribbons. He's captured my attention.

We gaze into eachother's eyes, searching past what the masks sheaths, and I practically melt at what I find. At one simple glance, I determine that he's the same as me; cold, calculating, powerful. I feel the connection instantaneously with the pounding of my heart and the perfect press of my body against his. We're a match.

Together the two of us slide across the polished floor for what seems like hours, sucking in everything about our partner. Gradually, he pulls me closer, and a content smile creeps its way on to his lips. It's like he's begging me to kiss him, and it's actually working. I'm completely falling for him. This is the reason I allow him to take off my mask.

But beneath it he finds something not to his liking.

He looks at my icily, reverting back to that sense of complete displeasure that I knew all too well.

He stomps away, leaving me in the center of the danced floor, dazed and confused.

I can't wait for the tears, and I scream my way out of the ballroom.

The sobs fall in rivulets, soiling the dress bunched in my fists. It doesn't matter now.

I clench my fists.

The mirror holding my face fractures to a thousand hideous shards.

It's midnight, and I'm ugly.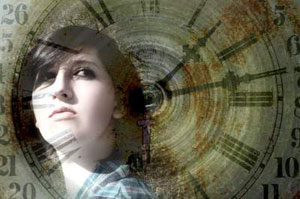 © Ryan K.