Holding My Breath
MAG
I've always been able to hold my breath longer than mysister. When we were little, my mother used to throw lavish pool parties duringthe summer and my sisters and I would put on elaborate water shows for theguests, culminating in a contest to see who could hold her breath the longestunder water. The winner would get a day of service from the other two sisters. Iused to practice for hours in the tub, vowing not to get out until my fingerswere as wrinkly as a crumpled paper bag.

My older sister, Emily, nevercared about winning the Underwater Olympics. She used to sit on the edge of thetub with L'Oreal products and Dep Gel scattered around her feet and a stopwatcharound her neck. Between smearing her lips with Very Cherry Berry lip stain andtransforming her feathery locks into bouncy curls, she would time me.

"Twenty-three seconds, Val? That sucks, go again!" she'dshout.

I liked to keep my eyes open underwater. I would watch her blurredimage fussing over herself in the full-length mirror. She'd suck in her stomachand push out her chest just like a girl in those teen magazines I loved to stealfrom her when she wasn't looking.

Emily had her own room, one I foundterribly sophisticated and princess-like. She had a canopy bed with fluffy pinkruffles and real feather pillows. Her walls were decorated with posters of boysshe and her friends loved to whisper and giggle about, like the members of NewKids on the Block. I claimed my favorite was Donnie, but only because Emily had aposter in her room that screamed "I LUV Donnie Wahlberg" in neon pinkletters.

When I became a teenager I didn't look anything like theBarbie dolls on magazine covers, or like Emily. I'd roam the mall feeling likeFrankenstein, my legs extending from my body like a spider; my arms were ganglymonsters of their own topped with fat thumbs and extra-long fingers. Sara, myyounger sister, liked to hiss "mutant" and "arachnid" in myear at the dinner table. I think she was still sour about all my victories in theswimming pool.

Emily, three years my senior, showed me how to shave mylegs and kiss a boy. She still had her own room, and sometimes she'd invite me infor a "sister sleepover" and we'd eat popcorn and giggle about ourDonnie Wahlberg days despite the fact that Alice In Chains now hung on herwall.

Then it came: a fat envelope with an official seal. Brown Universityin Rhode Island was a world away from the South Carolina coast, and Emily hadbeen dying for that envelope. She had applied early action, paying no heed to mypleas for her to forget the Ivy League and go to Cove Community instead. Islipped the package under my shirt, went upstairs and shoved it under mymattress. I spent the next week trying to forget about it.

Emily cried onthe eighth day.

"They must have rejected me," she wailed."The post office never screws up fat packages from colleges!"

Reluctantly, I snuck upstairs to my room andlifted the package gently out from under the mattress, like it was a princess'scrown. I almost threw it in the trash compactor, but instead brought itdownstairs. Emily was wringing her hands and exhaling deeply when I returned. Isuddenly had the desire to go back to the Underwater Olympics and those times inthe tub.

I threw the package in her lap and watched her face light up whenshe read the return address. I thought she might strangle me, but instead shethrew her arms around my shoulders and cried.

When Emily left ten monthslater, I don't think anyone held her breath longer than I did.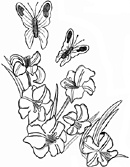 © Leah-Marie D., Peoria, AZ