Minnie Who Drinks Water from Wine Glasses
July 2, 2011
Minnie lives across the street from me, next to Rafaela. She lives alone in her small brown house with withered flowers in the windowsill. It is so small that it looks like a toy Kiki would play with on lazy Sunday afternoons. She told us of how her husband hit her when she drank too much, but then he got in a fist fight at the local tavern and lost his life to a stranger's hand. Arranged marriage, she whispers when Nenny asked her, Abuelito needed the money so Lorenzo became mine. But I lost him, I lost my Lorenzo, and then she goes back into her house to weep. Then she would call out from inside her tiny house with withered flowers in the windowsill, he was rich, you know. Richer than the King of England. But I don't think she knows how rich the King of England is, or if there even is a King of England.
Minnie is small and petite with coca-cola curves as envious Merin says. She is pale like a porcelain doll with a stream of slippery black hair that falls past her elbows. Sometimes Nenny will be outside playing jump-rope with Gloria and she will see Minnie drinking water from a wine glass with her hair up in a cinnamon roll bun that droops like her withered flowers. Or when I go out to play with Rachel and Lucy, I watch her eat food from the gas station in town on William Sonoma plates. She always has her table set for company. Except there is no company. I ask Papa if we can come over but he shakes his head like a sad old donkey. You are too young to understand what is happening there.

But I'm not.

But you are my flower.

So all I can do is stand and watch Minnie who sings while she waters her withered flowers. I can wish that she will find something other to do that stare at her TV because she doesn't have cable. And that Minnie will smile one day soon.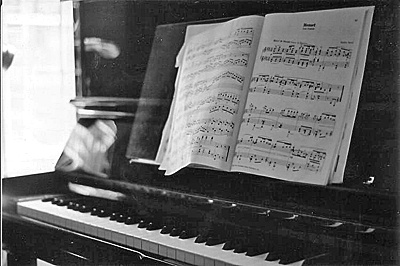 © Amy C., Portland , ME