Repercussions of a Thoughtless Utterance
June 29, 2011
Two words…that's all it took to seal my fate. Just two words, he thought grimly. Two words followed by the Bloody Big Head's inevitable cry of 'Off with his head!' An order that always leads to an untimely and unnecessary public death.


"Alice in Wonderland," originally written by Lewis Carol and given a dark twist by the notorious Tim Burton, is a tale of tested friendships and courageous feats. It is a story about a young girl who revisits her dream 'wonderland' to aid her friends, characters she met on her first epic adventure. Although it's Alice who is the heroin of this story, the one who ends the Red Queen's reign of tyranny and restores the throne to Queen Meiwanna, she could not have done it without the help of this story's most important unsung hero. A hero that although is completely mad, overcomes his troubled thoughts and shows great courage and undying loyalty to his friends.
Hatter, the queen's usually mad hatter, sat quietly in his cell dwelling on the events that led him to his present moment and current predicament. He knew how it had all began. In fact, he could recall it with complete clarity, but remembering what had passed would not change the present, or alter what would happen in the very near future. His fate had been sealed and could not be undone.
*
*
*
*
*
*
*
*
*
*
*
Locked in his upper chambers as a forced servant for a false queen, Hatter abandoned setting the tulle on a rather large black brimmed hat. The heavy metal chains that bound his ankles limited his movements and as he grew weary of their weight he decided to rest for a moment. He looked out over the view from the only window in the room hoping to find some small joy or a glimmer of hope along the horizon, but his gaze didn't reach so far as that. Instead it lingered on the black mountains and dead earth, and all of the beheaded victims of the Red Queen that were floating in the murky brown moat surrounding the castle. The sight filled him with dread and fear. Not for himself, but for those he knew could be next.
Why is Alice here? He thought to himself. I told her to go to the Mamorial, to the White Queen. She is going to get caught and ruin everything we've worked so hard to gain. Where will the oppressed be then? As Hatter's thoughts turned negative, his jade green eyes burned with fury, the kindled embers making them glow gold and cast a dark shadow over his consciousness. He began attacking his work, stabbing himself with the clothing pins once holding together finely created garments and now strewn across the room, and spouting incoherent nonsense. The madness in him was unleashing itself and he could do nothing to tame it…..
"Hatter!" the stifled shout from the door mouse at the door broke his destructive parade. Remy, his small but capable friend had come to try to help and had led Hatter to succeed in winning the internal battle he was constantly fighting with himself, at least for a moment. Before he could thank the furry grey creature, Alice burst into the room, clad in a red, white, and black gown and wielding the vorpal sword. "How's this for much ness," she uttered and raised the blade high, intending to break the bonds that held Hatter. But the sword could not be used for such a tedious task and in a rush Hatter told her so and halted her downward blow mid-swing. Her mind was set but her hand was stayed, until the doors crashed open with a thunderous bang.
Ilosovic Stayne, the knave of hearts, rushed in leading the royal army behind him and falsely charging the girl with unlawful seduction. As they charged forward, Hatter yelled to Alice to go and take the sword to the white queen before countering their attacks. He knocked the first several down with reels of fabric as he threw them across the room. But Stayne was next and he wasn't so easily thwarted. Hatter threw a hat, but it was shredded before his eyes. He reached for something else but was held fast by his chains. Remy detached them from a table leg, allowing him more movement and he grabbed an iron mannequin just in time to block Stayne's thrust of his sword. Both struggled with the other, Stayne with brute force, but Hatter with a strong will and courage of conviction.
Amid the fighting, Remy scrambled to a clearing and unknowingly shouted the two words that would ultimately lead to their doom. "Run Alice!" he screamed and immediately knew he'd done wrong, had ruined their only chance at redemption with the utterance of two simple words. Her cover was blown and she could do nothing but stand in the doorway, sword raised and ready for battle. But she wouldn't stand a chance. All Hatter could do was breathe the word "run" out in a whisper and, without any hope to escape, she fled from the room.
Even though he knew his efforts were futile, Hatter continued to strike his enemy with blow after blow of random objects he found around his quarters. Finally, Stayne struck his willfully mad opponent down, and as darkness blurred Hatters vision and steered him toward unconsciousness, he could only think of Alice. Will I ever see her again? She has to succeed. She has to…we need her… And then the darkness took over completely.
Throughout the story of "Alice in Wonderland," the Hatter aids Alice whenever possible. She is his friend and ally, and by the end of the story they are practically family. Because they become so close, they are bound and loyal to each other. He never lost faith in her and their friendship gave him courage to protect what he cared about the most. So, he gained a friend, fought to defend, and even overcame his own internal issues and fears along the way. No one will ever get anywhere without friends, and Alice would not have succeeded with out the Mad Hatter, our story's unsung hero.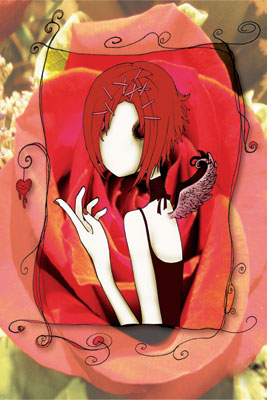 © Melani H., Stuart, FL