Only Sleeping: The Funeral (His Point of View)
May 20, 2011
I hate that dress. It looks great on her. The way it's tight at the top and poufs out at the bottom. She looks amazing. But that dress can mean only one thing: death. And this time it's my death that brings that dress out of the closet. She's only worn that dress one time before. Eight months ago for her grandfather. But this time it's for me. There's no way around that.

I hate how sad she looks. She shouldn't look that sad. She looks so much more beautiful when she smiles. I would do anything to make her smile.

I stand on the other side of my coffin as she pulls a chair up to sit closer to me. Well, not really me, my body. As I sit on my own coffin with my own body lying beneath me I hear her normal greeting come from her mouth. "Hey honey." she looks shocked that she would be talking to me. But not shocked when I don't reply. Dead people can't be heard.

Her fingers gently brush against mine and I feel her touching my hand. I thought ghosts couldn't feel. Can people feel ghosts? Her tears are falling off her face and rolling down mine and I realize that I'm crying. We're shedding the same tears. But only hers are seen.

I have to look away from her face or my no longer beating heart is going to explode. My eyes venture to her feet and I laugh to myself. How could I not have noticed them before? The bright pink converse are the only things that talk of happiness in this desolate place. How many concerts had those shoes jumped around at? How many times had those shoes slept on my floor as she slept in my arms? How many streets had they walked up and down? How many dusty trails?

I love the way looking at those shoes makes me feel. Then I look at myself. I hate that they put me in a suit. I wanted them to put me in one of my shirts I painted and my favorite jeans with my red converse. Then I might look like I was only sleeping. But lets face it; she had already claimed those shoes and pants. We were the same size. That was one of the many great things about us. We were so much alike that we could even wear each other's clothes. We had been asked countless times why we had never gone out. We had talked about it, thought about it, and a couple of times we had dreamt about it. But we had never gotten around to actually doing it. But we did love each other.

"Never again... I love you... I love you so much it's ridiculous." I had heard those three words come out of her mouth so many times but some how this time it surprised me. It was how she said ridiculous. It made it sound like her love for me was hurting her. Like it was cutting her every time she thought of me.

As I kneel down in front of her I love how more then ever her eyes look like Carmel. Looking closer I still see the normal specks of green and gray. I love her eyes so much. "I love you so much Sara. You made my life beautiful. This had nothing to do with you. This had everything to do with me but nothing to do with you. There was nothing you could have done to stop this. I'm not saying you aren't important to me. God knows I never made a decision with out thinking of you. Even this one. I thought for weeks what this would do to you. But you're strong and you don't need me. You're so important to so many people. That's what I love about you. You always give people your heart. I love you and will always be here for you. Even though you can't see me or hear me I'm still here. Never again has to end now. We will still have our Kodak moments. I just wont be in them. We will always make fun of songs. You just wont here me laughing. I will always hold your hand. I will pray you feel my hand in yours. I love you and you will have a good life full of people and memories and songs and concerts and shoes and naps. But our life together is over. But it was beautiful. So beautiful. Please never forget the beauty of our life."

"Miss. We have to bury him now. It's going to rain and we have to get it done before then."

"It's okay. You can leave. I'm fine now. Just don't forget." I grab her hand for one last time. Her hand shudders in mine and her smile spreads across her face and I know she knows I'm here. "Never again is over. Lets go home."

As I walk her home from the cemetery I feel her hand tighten in mine. It's starts to rain on our way home and I know that the sky is crying with her, over the loss of me. But what she doesn't get is she hasn't lost me. She just can't see me. I look into her heart and see the guilt of not being able to save me this time. But next to it I see all the joy she feels while thinking of our past. I'm just glad I still get to see her future. I will stay next to her through all of the bad times and I will watch all of the good times. When she needs a hand to hold and can find no one else, I will hold her hand. But I will not fight for her hand when there is another hand in hers. That wouldn't be fair to her. I love her and I will always let her know. I have a feeling that she will always have a special place in her heart for me. But hopefully that special place doesn't weigh her down and make her unable to do what ever she wants. I still love her.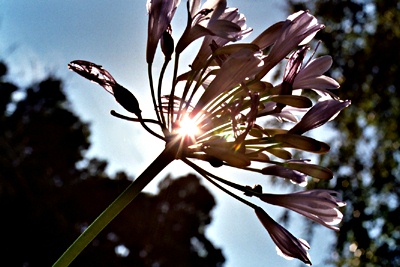 © Brandon W., Redwood City, CA