Restrained
May 8, 2011
Oh, the tiny, although significant, details of our universe the average, oblivious human eye overlooks. What is it that makes us infants of God so…naive? Am I the one person on this earth to notice these treasures of life and value them? No, that cannot be…there must be someone out there to see the world behind the solicitous eyes of a profound writer and artist as I do.

Who else but myself would form a full-faced beam at such sights, which, from a logical point of view would appear to be utterly stupid? One of my favorite sources of entertainment is simply staring at a thin trail of an airplane when visible in a sapphire, cloudless sky. I imagine great things, yes, downright prominence. Pure awe bathes my organs, filling me up until my insides are chock-full and drowning with a rejuvenating sensation. This comes from my remarkable experiences. These are when I witness blissful creatures ambling through those slender paths that mark the heavens.

Those with superficial eyes, they see past the anomalous marvels of the universe. Their vision is dense with a great fog, obstructing their roads to the lands of imagination and nonconformity. Where are those who are able to undergo a fervent zeal when gazing at a sunset atop the ocean blue, when the atmosphere is mixed with streaks of yellow, pink, and red? Where have they ran off to? Do these beings even exist?

But I am alone. I see myself. I stand in the middle of a crowd, observing the shades of the rainbow, while those who surround me ought to see only black and white! Their simple minds envelop me, obscuring me with this superficiality, restraining me from my self-expression. They maliciously clip my wings of inspiration. They let me fall downwards into a bottomless pit.

Where shall I go, where are my moments of happiness? I plummet down this endless trench. My life is lacking a point, and in lunacy, I lash out my distress. I free the shackles which truss my writhing emotions, letting them sprint all the way to their one home. To the lines that embellish the vivid blue sky—just dying to have meaning, to be written upon—I send them.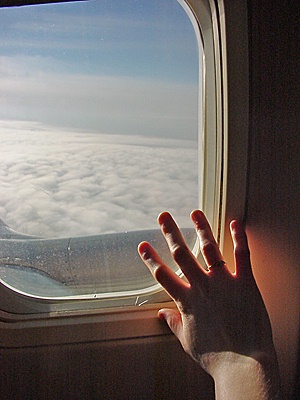 © Greg K., New Lenox, IL