Fly Away
April 2, 2011
As the light of day beings to trickle away, as the sun slowly sinks and the moon gradually rises in a cycle as old as time, as the stars emerge among the blanket of inky blackness, one by one by one, and dusk slips away before night, I sit gazing out through the boring window of my generic white room. I watch the moon with a longing that touches the depths of my soul. The night is captivating in its mysterious beauty, alluring in the freedom it offers.
Fly away, it tells me.
Against conscious command, wings unfurl from my back - silvery black, slender, and marked with the scars of my past, present and future self. They're damaged, but also operable. They'll take me far away from here - if I so wish.
I pull open my window. Cold air washes over me, then swoops backwards, pulling at my heart.
Fly away.
What would it take to obey its call? To spring out this window and let under-currents of air catch me? Would it take a leap of faith, or just a step? Would my struggles lessen, or only gain power and strength?
I continue to gaze out. There's only one way to ever know. This is my only chance before I'll be reigned in and forced to conform with them. My only chance to try before I spent the rest of my life wondering.
Slowly, I step through the window and onto my roof, the threshold. My wings unfurl to fill the night. I close my eyes, and I fall.
So is all of this metaphorical? Is it all just a part of my imagination? Maybe it is. Maybe my wings are the key to my success, maybe the night and its beckoning is life itself, and maybe the small white room represents my own limitations. And maybe I simply don't separate reality and fiction as well as I should.
But I know that I am, for a moment, locked in an exhilarating downward rush. Swallowed up and consumed by my newfound freedom I nearly forget to fly.
But then I pump my wings once, twice, and I'm hovering, inches above the ground. I pump them once and twice again, and on the fourth stroke, the wind catches me. I rise higher and higher, to the sky, moon, and stars.
Taking flight into the beckoning night.
I've never felt more free.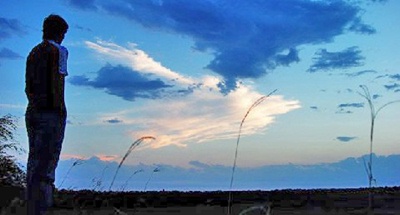 © Stefanie K., Katy, TX