Vampiro Pensamientos y Recuerdos
April 13, 2011
Wind tossed about a lonely woman's shawl, I watched it dance over the moor. I could hear it susurro (whisper), rustling on the current, the gentle wind that is ever-present out here in the country. The footsteps were very faint behind me, unos niños (some children), some boys were laughing over by a dying tree. Fall had crept up on England once again; it was my four hundred thirtieth fall, for I had died on October 8, 1572. I had been forced to watch mi madre y mi padre se mueren (my mother and my father die). My wife and only daughter were killed that night along with everything else I held dear. I, however, was spared and forced to become one of these horrible things! Vampiro (vampire)!
We vampiro have forever to hold our grudges, and I did. I became a news reporter some hundred years ago to report and expose vampiro for what they are. Monsters. I live now in London, England; far from my home in Méjico, where my family lay as dust and bones. I need not drink so much as others of my kind require to survive, but I can still never see the light of day. I am after Maria Gratzia Bandarez tonight. I have tracked her movements for the past ten years, for she is of kin to me. My father was the brother of her ancestor, which makes her, the cousin of vampiro kind. She was American. I walked down one of the dirt lanes of the London country and noticed her peaceably sitting beside a small pond of tiny, delicate chirping frogs and crickets. She had a vulnerable air about her, more so than other humans. My dear cousin Maria was with child. I was convinced of this as I approached, for two heart beats thudded in my ears. Both were distinctly female.
As I walked, I heard an American song, though I hated American music, this song was different. It sounded strangely appropriate for the moment, and the voice singing it had a Spanish lilt to it. It was Maria, singing a song by a famous artist by the name of Colbie Caillat. It was muy bonito (very nice).
"She's got baby inside, she holds her belly tight, all through the night, just so she knows she's sleeping sound, safely to keep her growing." I wanted to drown in her voice, it was remarkable.
She heard me approach, exactly as I meant for her to. "¿Hola? ¿Quién es usted? ¿Dónde estás? ( Hello? Who are you? Where are you?)" Her voice was as pleasant in Spanish as it was in song.
"Soy yo, el uno para el que han buscado con tanta avidez. Usted me ha buscado durante muchos años, y así que aquí estoy. Usted me dice por qué estoy aquí. ( It is I, the one for whom you have so avidly searched. You have sought me for many years, and so here I am. You tell me why I am here)." I smiled lightly. "María Gratzia Bandarez, niño, siempre he estado observando. Y tú eres un hijo ahora, ¿estoy equivocado? Ese niño es primo de nuestra especie. Tipo vampiro. ( Maria Gratzia Bandarez, child, I have long been watching you. And you are with child now, am I incorrect? That child is cousin to our kind. Vampire kind.)" Her face paled in the most lovely fashion, the palor was that of la muerte (death).
"Lo siento, señor, usted debe ser un error. Mi hijo es criado por el hombre. Humanos hombre. Vampiros no existen y ni yo ni mi hijo pertenece a su linaje. (I'm sorry sir, you must be mistaken. My child is bred by man. Human man. Vampire do not exist and neither I nor my child belong to their bloodline.)" She was clearly frightened, trying to pretend she was not crazy in case I had been lying. I felt sure I needed to probarme a mí mismo con ella (prove myself to her). So, I smiled.
My fangs grew and pressed out from their hiding places como puñales en miniatura, que brillaban con malicia (like miniature daggers, they glinted maliciously). Her eyes grew wide with horror and fear, I knew what was to come; Yo me apretó la mano contra su boca, sucumbiendo a su silencio (I pressed my hand against her mouth, succumbing her to silence). This infant, this half-breed, would belong to me. Half human, half vampiro, it no more rightful place in the world than with me. I knew it would never belong anywhere, which is why it would regla de todo lo que no pudo ser (rule all it couldn't be).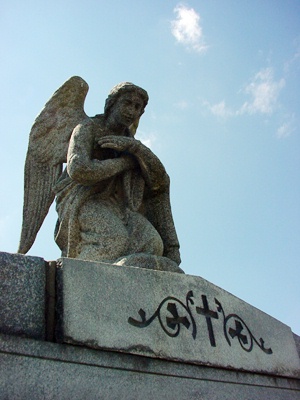 © Greg K., New Lenox, IL