Dear Summer
February 6, 2011
Dear Summer,


My dear Summer. It's been so long since you left us. I need you're warm smile. I need Summer time again. Life hasn't been the same since you've left. It's cold, because Summer's gone. You know how they say twins can live without each other? I think it's true, because I don't care how alive I am. I haven't lived since you were taken away from me. I'm not alive at all.

I'm insane. I know I am too. They say the insane don't realize they're insane. These so called experts sane insane people just live thinking they're perfectly normal and they don't even realize the life that they're living is totally wrong. You know what's wrong? The experts. I know I'm insane. Because the sane part of me is still here. I'm still here, but I'm trapped. I'm stuck inside my own mind. I'm surrounded my insane thoughts, because the insane one took over.

It's horrible. The movements I want to make I can't. It's like being stuck in a straight jacket. In my own body! Insanity is what runs me. Insanity moves me. Insanity hears everything. Insanity sees for me. Insanity does everything for me. What kind of living is this? It isn't I'm not alive, remember, Summer?

I'm stuck with just existence or being or whatever. My thoughts are my friends. I cower with them away from Insanity's thoughts. Insanity is crazy, obviously. But it's not that fun, giggly, insane they show you in movies. It's a terrifying, dark, morbid crazy. Like the Halloween movies with the Mike Meyers guy.

I'll try to make you smile... I loved your smile... If Freddy Cruger and Jason Vorhees had a baby, Insanity would be that baby.

But I have to tell someone. Her thoughts... their so dark. Like little black monsters her thoughts claw at me. And she makes me do ugly things. Insanity carved my name into the door in my bedroom until Mom found me. Blood was running down my arms. My fingers were so splintered... It hurt so much. Mom tried to ignore it, but Insanity was always trying her patience. Always trying to test how far she could take her own sanity.

Next she... It's so hard to say... I'm laughing at it though. It seemed so fake and unrealistic and... It's wrong that I'm laughing at it. So wrong. I guess I am truly insane.

But I still need to tell someone. The next big thing Insanity made me do was what pushed Mom over the edge. I killed our neighbor's cat. Insanity laughed while she did it. She tore it open with a knife and, remember the fishing equipment dad used to have? She hung the cat from our ceiling fan. That was the night Mom sent me here.

Insanity told me we're in a mental hospital. I don't know what it looks like. It feels stark. Only a hard bed, a metal door, and a barred window.

I'm in H***, Summer. H***. Every night I'm tormented- I can't escape it. Every day I'm locked away in my own mind. I'm living a nightmare. Why did you have to go? Why'd you have to leave our family? It's your fault I'm like this! It's you're fault I'm dead in this Hell inside of me.

Wish you were here,
Serena.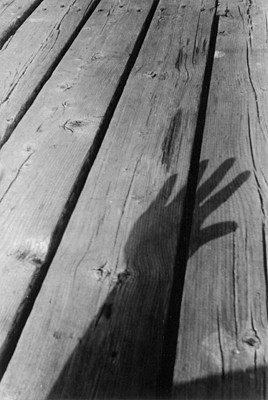 © Janet D., Marblehead, MA