I will always love you Daddy!
January 5, 2011
"Never let the fear of striking out keep you from playing the game Emma."

"Thanks Dad, I love you."

"I love you to sweetheart."
Those words were the last words my father said right before he died. At the age of 46, my father got into a car accident. He was driving home from work when a drunk driver hit him, paralyzing him from the waist down. He stayed in the hospital for over 3 months, trying to get at least some movement and feelings back into his legs. Unfortunately, the only thing that ever moved was his big toe and he was only able to move it slightly. My mother, mostly working down in the city, doesn't come home until after 11. Every night, I would jog over to the hospital since we only lived a few blocks away. Running, also allowed me to think about life and everything that had happened. I felt that by running I could exercise; otherwise I might drown myself in chocolate to get rid of the pain: the pain of seeing my father getting weaker each day and the sorrow of what the future will bring when he does die. Not having my mother there to comfort me is extremely difficult cause she isn't there telling me everything will be fine.

Everything after his last words were a blur. The warm hand that was so full of life that was fit perfectly in my hand like a missing puzzle piece dropped and became lifeless. I remember somebody pushing me out of the way so they could see my father. After what seemed like hours, a nurse with dark green eyes said to me "I'm sorry for your loss but your father has passed away. We couldn't do anything for him, Take as long as you need to"

After she walked out the room, I slowly recalled what happened. I looked up and saw my dad lying there peacefully and quiet. Just waiting for him to jump up and yell BOO! However, I told myself behind heavy wet tears "I couldn't have lost my father, I'm only 17, this is probably just a dream, I will wake up tomorrow and come downstairs and hear him yell at me for coming home too late last night." But the more I thought about it, the more I realized that it was true. That one day changed my life forever and will be unforgettable. I will be the only senior at my high school, that doesn't have a father to argue with. After school everyday it will be extremely lonely and quiet. Normally, after school my father and I would walk over to the local ice cream shop and split a milkshake. Right now, it feels like a candle without a flame. At the age of 17, I lost my 47 year old father and best friend forever.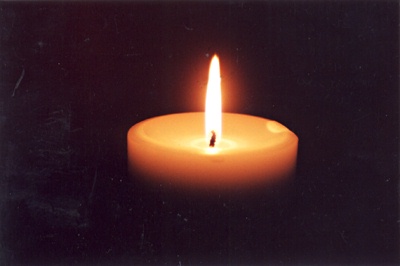 © Ashley D., Philadelphia, PA