Half Smoked Cigarette
January 3, 2011
There she was, in the cold, wet, stinking by lane between two buildings in one of those over congested ghettos in the capital. My half smoked cigarette fell out of my hand. Suddenly my laugh faded and I felt as if her eyes had burnt away those boundaries which separated me from her, her from the rest of us. My new fancy Nike sweatshirt and those expensive jeans that I had bought one night with friends from that swanky underground store in knags.... they could no longer hide the fact that i was naked. I had clothed myself but underneath I, me, my body, my being was still naked just like her. The only difference was that she no longer cared; she had accepted it and was no longer deceiving herself. I on the other hand was filled with fear at the though of it, that everything I am or everything I do is meaningless. I would always be naked. She was just standing there, looking straight at me; straight through what I always thought was 'me'.

I don't know if it was the beer I just had at my friend's flat, or the memory of that girl I couldn't get or the emptiness of her eyes, of my life, but my heart was burning and I wanted to cry. I was scared to do that 'coz that would mean accepting something is wrong, it would mean accepting that I don't have the perfect life. How could I cry? All those pics on facebook, all those fancy funny status updates about those comedy shows and those rock bands that me and my friends follow to let ourselves and the world know how f***ing cool we are, all those times I spent telling those f***in hilarious stories and jokes, the day that had just gone by me, the time I had just spent drinking, laughing, smoking, thinking how much fun this is- everything would fall into the same muck as my tears sharing space with that half smoked burnt out ciga-weed (as me and my friends like to call it). How could I cry? How could I accept that all my life all those things that I had wanted and all those things I was so proud at having become they were all like those expensive clothes I was wearing. No matter how many I wore I was still naked.

I think again about that girl I couldn't get. If it hadn't happened the way it did, would I still be here? Yes but I d probably have been too busy to notice someone standing in those by lanes. I'd have though it beneath me. I'd have actually believed, without even knowing, that it all mattered - the drinking, the laughs, that swanky store, k nags, the sweatshirt. Suddenly I felt as if I just woke up from a dream and I saw my half drunk friend looking and laughing at me saying something about how drunk I am and the other half drunk friend complaining about that 'ciga-weed' I had just wasted.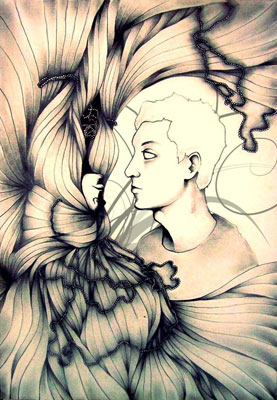 © Victor K., Las Vegas, NV