Empty Match Box
January 1, 2011
I listened to the thunder rattle my windows. I saw the lightening flash as if it were a strobe light. I shook with fear. Fear of the unknown weather, only a brick wall away from me. Fear of how many more storms we would receive this week. I heard the wind knock the deck against the house, shaking the floor.

All was quiet when the rain began to fall. Softly, at first, it fell. But then the wet drops began to pound against the roof, waking everything inside the house.

I climbed out of bed and threw a blanket over my shaking shoulders. My father glanced up as I entered the living room. We began pacing, our footsteps matching the pace of my heartbeat and the rain.

The lights soon began to flicker, causing my mother and sister to join our pacing game. As the lights went out my father went in search of candles. He sat the candles on the coffee table, lighting them.

My sister and I huddled together. All would be well now, because we had light. The house rocked with a rumble of thunder. The heavy winds caused the door to fly open, extinguishing our only light. My father ran over to the open door and forced it to shut. Locking the door he turned around in search of a towel to clean up the splatters of rain.

My mother reached for the match box. She jiggled it upside down, as we all prayed for one more match. Nothing fell out of the box. I felt my sister squeeze me in fright. My father wrapped an arm around my mother.

We sat in silence. We hoped for a miracle. We could not survive another stormy night without any light.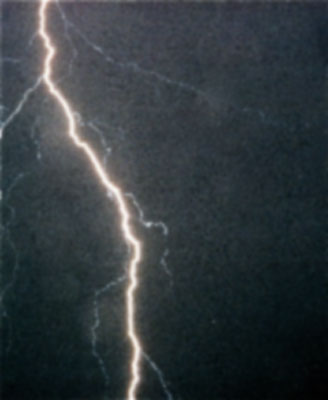 © Zachary C., Arlington, TN