Beautiful
December 22, 2010
Isn't it funny how you can trust some one you know you shouldn't? Isnt it so d*** funny when they betray you? Just f***in hilarious as they break your heart?Someone whos been there through all the tears; someone you'd do anything for? It hurts like bloody h***.

Ha, wasn't I stupid to believe you weren't going to be like the long list of others? When you said you were diffrent I knew I was going to get hurt but I gave you a key straight to my heart. Now you just sit there saying 'ok' to me like im so f***ing crazy for falling for you, for Believing you when you said I was beautiful ,for being there for you when u needed me.Well just lock me up when I tell you I believed every word of it.

I feel pathetic , even though you hurt me. I despertly want you to take me back. To say it was all some mistake .You love ME remember?? Just like its susposed to be right? I want to scream and cry. Yell at you for hurting, but it wont get me anywhere. D***it, I was always there for you.Now where the h*** are you when i have black tears falling down my once 'beautiful' face? Strangely, when you said forever, I didn't think it'd be this way. Now where are you ?

Oh ya telling her shes beautiful..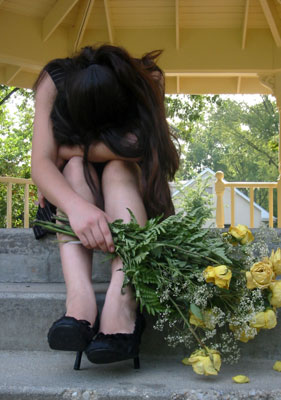 © Martha V., Morton Grove, IL