And Then He Cried
December 12, 2010
The wallet contained exactly thirty eight dollars. Thirty eight crisp, green, leafy dollars. Max smiled. This was his favorite part of the day; just him and his money. He willed for his life to stand still. He didn't want to exit the subway. He didn't want to enter into the apartment. He shut his eyes. He could picture his dad yelling at him. "Only thirty eight dollars?" he would scream, before slapping Max across the face.

As Max departed the subway station, shielding his eyes from the glaring light of the fiery sun, he knew he couldn't give the money to his dad. He wasn't exactly sure why. It was a gut feeling, and, at this point in his life, Max knew it was always best to trust his gut feelings.

Max walked to the apartment slowly, his feet slapping against the pavement. He creaked opened the door and there was his father, waiting. The look on his face was ominous. "What took you so long?" he snapped.

"Um. Nothing." Max gulped.

"Where's the money?"

"I didn't get any," he stammered.

"What do you mean you didn't get any?" his dad yelled. "It's NYC, for chrissake. All you have to do is step out the door and the first person you see is going to have money. The rest is simple. You take it. You pick pocket it. I taught you everything I know about pick pocketing and I was a damn good teacher. And now you're telling me you didn't get any money?"

Max nodded, "I'm sorry. I guess I'm just not as good as you."

"Damn right you aren't. You're not good at anything."

Max gave a slight nod, and then waited for the pain he would inevitably feel after his father's hand made contact with his face. Whenever his father hit him, he tried to think about something else. Usually, that "something else" was his mother. Or his girlfriend, Claire. Claire: the one he didn't love. The one he should love but didn't. The truth was, he didn't know how to love anybody else but his mother. Max let his train of thoughts take him where they would, before realizing that he still hadn't been hit. Was he safe? Dare he open his eyes? He did open his eyes (he never shrunk from a dare) and there was his father, looking out the window, a can of beer in his hand. "Go away," he said quietly and calmly. In fact, his voice sounded too calm. Max stood there for a few more seconds. "Go away," his father commanded, a bit louder than before.

Max left quickly and proceeded to lie on his bed. He sighed. He knew that if his mother was still here things would be different. That was the only thing he was sure of. Well, he was sure of that and he was sure that he wanted to die (Unlike others, he wasn't scared of death. He liked to follow Peter Pan's motto: "To die would be an awfully big adventure."). But death would be more than an adventure. It would be a family reunion of sorts, between him and his mom. Sure, they would both be dead, but they'd still be together, buried deep beneath the ground in a graveyard. He shuddered. It sounded gruesome.

He must have drifted off to sleep at some point because his slumber was soon interrupted by a gunshot. He looked around the kitchen for the gun, before noticing that it was missing. Surely, his dad didn't take the weapon. Surely, his dad didn't kill anybody. He wouldn't. Would he?

And then he saw the body, blood seeping through his dad's favorite green shirt (had he really changed out of his old, ratty, grey t-shirt in order to commit suicide?). A lump formed inside Max's throat and, for the second time in his life (the first being at his mother's funeral) he cried.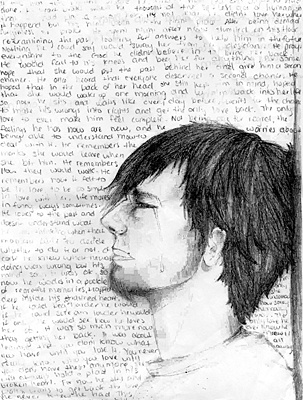 © Annie M., Columbiana, OH