Autumn
November 29, 2010
I love you, she said. You just don't love me in the way that I need to be loved, and..and I can't take this anymore. I'm sorry. This is Goodbye.
Watching you walk out of my life is the hardest thing I have ever had to do. But I stayed quiet just like I always have. Just like you expected me to. I took you for granted and I didn't give you the love you deserved. I'm so sorry, I whispered. But you couldn't hear me over the rain.
It's autumn and we're sixteen. We're young. We've just met, but still you kiss me in a way that makes me feel like we've known each other for years. You're wearing that orange scarf that matches the color of the leaves I pick from your hair, and you smile.
It's winter. You're wearing my blue sweater and sitting next to me in your car blowing air onto your hands and rubbing them together, your hair still wet from the rain. You reach over, grab my face and kiss me. Your hands are still cold on my face, but I don't mind.
It's autumn and now we're seventeen. Your breathing is heavy and it tickles my ear when you whisper that you love me. The leaves are turning the orange of your scarf that's lying on the floor. The same orange as last year and the year before that, and it will be the same orange as next year. I love you too, I say. You kiss my cheek and pull me closer.
You're lying on my bed talking away but I'm not paying attention, and you know it. I'm busy, and I had told you not to come over and an hour later you're on my bed. I can hear the kids next door making splashes into their pool. We should be outside letting the sun bake us. You want me to slip your hair behind your ear and kiss you so that you can smile. But I don't, and you leave. I realize that I haven't seen you smile in a long time. Summer was the longest it had ever been that year, and autumn started late.
We share the conversations of those just meeting for the first time, and you hold my hand to feel closer to me. You complain that I don't hold it tight enough, so I squeeze your hand. Ow, you say. And you push your hands deeper into the pockets of my blue sweater.
It's autumn and now we're nineteen. I sit alone at the park and watch as a boy chases a girl into a pile of leaves and kisses her on her forehead. The orange tint to the leaves is so faint that I almost don't notice it. You got rid of your scarf months ago.
It's winter and I'm holding my blue sweater in my hands. You're sporting a gray one now. You tell me that I have failed as your lover, kiss me on my cheek, and you walk away. Your lips were cold and I never felt your hands.
It's summer and not even the warmth of the sun on my skin can take away the coldness that you left behind when you left me standing there that day in the rain. I just wanted you to know that I love you and I wish I could always be that person that I was for you when we were sixteen. But I can't because we had left our love for dead and the autumn chill caught it by surprise.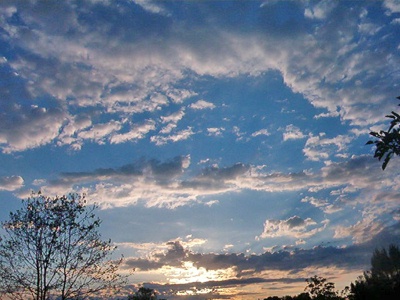 © Kaitlin M., Vincent, OH