My Teddy Bear
October 28, 2010
How did I end up in this place? How did I get to this stupid, metal, junk box? I remember being on a plain, white dusty shelf and then being stuffed into a white plastic bag filled with miscellaneous items. I cannot see anything but a small peak of light escaping the cracks of the donation box. Alice and I were best friends. Why would she ever throw away something she's known since she was seven? I thought that things would end up differently. I think I remember how I got to think dark, mold-smelling place.

I remember when we first met. It was the beginning of the winter holidays in 2004. I remember being shipped out from the manufactures in China to the Build-A-Bear Store. The ride took two excruciating months. When I finally arrived to store number six-thousand and fifty, I was dumped into an ugly yellow bin along with fellow bears. It wasn't too long before I made my way on to the top of the pile. The hundreds of children were digging through the bin to find the perfect bear to make. Thus, many of the bears had left and freedom and escape was a few yards away from me.

I clearly remember the young Alice walking into the store with her eyes glimmering and gazing at the items in the shop. Her little blonde hair had two braids and she was wearing pink overalls. Alice seemed adventurous because of the excitement and spunk of her running all around the store jumping with ten different items in her tiny arms. I knew that we would be the best of friends. I saw her running as fast as her little legs could take her. She stopped in front of my bin. I felt her tiny hands grasp my sides and lift me up. "Mommy! I want this one! She looks just like me!" I had heard her exclaim.

She immediately took me to the stuffing station and filled me with cotton. I thought that I was going to burst! Afterwards, she practically threw me to the dressing station. We spent what felt like ten hours of her dressing me in twenty different outfits. Finally, I was shoved into a box and taken home.

For a while, we were the best of friends. She took me every where she went and never left without me. I remember on a trip to Paris, Alice's mom didn't want me to go because I was an extra carryon. Thankfully, my best friend threw the world's biggest 'tantrum' and I went to Paris with her. However, throughout the years, she had been slowly leaving me behind. Once, she had left me at school for a week. It progressed to when she threw me into the blue box filed with toys she did play with anymore. I felt so alone and abandoned. The only toys I had with me were a broken doll with an eye falling off and old building blocks. I felt like trash. Eventually I was taken out of the bin and placed onto the white shelf over Alice's bed. It took over a year before I heard the unspeakable words spoken.

"Alice, sweetie, you're a big girl now. You should give away some of your toys you don't play with anymore. Can you please do that?" I heard her mother say. I thought that Alice would be reluctant. But, she happily obliged. I watched the other toys being thrown into the white, plastic bag one by one. A small part of me thought that she would keep me but, I saw her large grab me and place me into the bag, I felt her tie the string into a knot. Alas, I was thrown into the back of the car and dropped off into the donation box. Maybe in the future, I'll find a new friend that will truly appreciate me.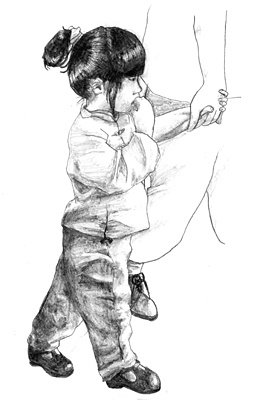 © Laura K., Kendal Park, NJ