Speak
October 13, 2010
Speak
I stay there just lying in the tree, just staring. Staring up at the bright blue sky, watching the clouds pass me by. Feeling the nice cold breeze brush against my cheek. It's nice and peaceful there. There's no yelling, screaming, or fighting; just the sound of the wind hitting against the tree and the birds chirping away. I always love coming here to just get away. To just get away from everything.
No one really knows what it was like to be me. When people would see me and look at me, they would see a sweet innocent girl with lots of friends. Who never gets into trouble and does really good in school, has a perfect life, always smiling and laughing; Making it look like every thing was okay. Always having fun while playing sports, making varsity, scoring goals, and on my way to being captain; But no one really knows.
I'm really not so sweet and innocent. I only have three good friends that I can trust. I always get in trouble, whether it was getting chased by the cops, fighting in school, and yelling back at a teacher. I think I'm dumb because I never do well in school. I only got an A once and that was in gym. It may look like I'm laughing and having a good time, but what can I say? I'm a good actress. I smile so people won't ask "what's wrong?" "Is every thing okay?" I didn't want to explain what was wrong and what was going on with me. Nothing was right, and I never knew what to do.
My dad cheated on my mom on my 13th birthday. I was at a soccer game and it was probably one of my best games. When it was over and I was on my way home I knew something wasn't right. My mom was quieter then usual, but I didn't think any thing of it. Later that day my friend came up to me and told me that my dad cheated on my mom with some black chick. I didn't see my dad that day; never even got a birthday hug or even a happy birthday from him. All of this didn't really bother me till the next day.
My mom was crying and she took down the wedding picture that was hanging on the wall. She had huge bags filled with clothes. I didn't know if it was filled with her things or my dads. I didn't know what was happening or what was going to happen. It all just happened way too fast. A week had past and he hadn't been home. Everything was going really good with out him. There was no yelling or fighting. Everything was perfect.
Later that night he came back. The yelling started again and the fighting became too much to bear. I took my little sisters upstairs and we all stayed in my room. I blasted the music so they wouldn't hear the yelling that was going on. They stayed in my room that night. I was used to the yelling. I didn't think it would get worst.
Shortly after that day the beatings came. All I had to do was walk in the same room and I would be attacked. Or even simply turn the volume on the TV down and the beatings would come again. Soon I got use to it. Every thing jut stopped hurting. The hitting, kicking, punching, hair pulling, being thrown around, and choked. This became my life.
School was the only place I felt safe. I couldn't get hurt there. I would be afraid to fall asleep at night, because I didn't think I would wake up in the morning. And I would be afraid to wake up, because I didn't know what was going to happen that day. Soon he started to go after my mom and sisters more and more. It was getting hard to keep him away from them. I never let him touch them. I would always get in the way before he could hurt them.
The day I planned on telling my teacher about it was the worst day I ever experienced. The day before I gave her a note telling her that my dad hurt me a lot, but she didn't really get what that meant. So the next day she wanted to talk to me after school.
"Jane come with me for a second." Ms. Bronte said. We walked out and into another class room. She quickly closed the door behind me. "What's going on with you? You're not yourself lately."
"A lot of stuff has been going on lately." I said
"Like what?" She asked "And what do you mean your dad hurts you? He hurts you like he yells at you? Or He says means things to you?
"No, He hurts me a lot. Like he hits me." I told her
"He hits you?! Does he do anything else to you?" she asked with a worried look on her face.
"Well he hits me, kicks me, throws me around, chokes me, and sometimes punches me." I told her. I could tell by the look on her face this was a bad idea.
"Jane." It seemed like she didn't know what to say. "We have to go talk to a guidance councilor." She said. My heart started to race.
"NO. I don't want to talk to anyone else." I quickly said. She finally convinced me to go with her and talk to a guidance councilor.
"Ms. Bronte, I really don't want to do this. " I said as we walked into her office.
"If you want I'll do all the talking for you." She said. I just nodded my head. I felt a little bit calmer, not that scared. We sat down in Mrs. Dickens office. Ms. Bronte started talking and told her what I said.
"You know what we have to do Ms. Bronte. We don't have a choice." Mrs. Dickens said. My heart started to race again and fear came over me.
"What has to happen?" I said nervously.
"We have to make a phone call." Mrs. Dickens told me. I knew right away who they had to call. Tears came to my eyes.
"NO! You can't! You don't know what will happen. Please don't!" I started begging. I couldn't hold the tears back any more and it all just came out. Ms. Bronte pulled me out and took me into the hallway as Mrs. Dickens made the call.
"Don't worry everything will be okay. You were so brave coming to me about this." Ms. Bronte said trying to make me feel better. Tears were still falling from my face. I didn't want to leave. She was hugging me and I felt safe. I didn't want to go home. I wanted to stay safe. She opened the door and looked at Mrs. Dickens.
"Did you make the call?" She asked
"Yes, I just got done talking to them." Mrs. Dickens said. I was scared for my life. I didn't know what was going to happen. I started shaking with fear, diffuse was just called. I didn't want to leave and go home. Go to a place where I could be getting hurt more.
"Maybe they won't even come" I thought to myself. I tried calming myself down, but nothing was working. "I have to go now." I said and started walking down the hallway to the doors. There was nothing I could really do. I just had to wait, wait and see what was going to happen. I walked home hoping nothing would happen.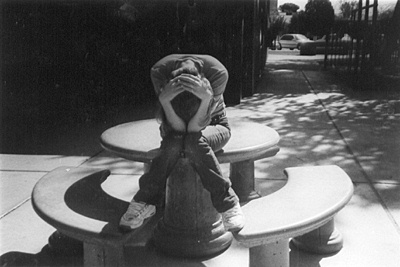 © Catherine R., Phoenix, AZ