When we were young
September 29, 2010
Maybe you're in love"
she smiles as I grab my coffee from the black marble counter of the coffee shop, my hand brushing hers as she sets it there.
My hand sparks and she just grins at me, before turning around. She always was turning her back on me.
"I don't fall in love." Except this is a lie, and the vibrancy I can see her with says that oh so well. Its been a few hundred bad decisions, of which she was the first, ago since I was in love with her. But she's still magnificent to watch; when she's naked but for her devil-may-care attitude as a superhero cloak, and the hint of a tongue in cheek smile.
"uh huh, sure love." She smiles down at me, cheeky as h*ll, and utterly stunning. Its quite something to behold, but I've long since stopped going to that place, where I have her on a pedestal so high, gravity would've been knocked down. Still, it's fairly lovely, that she still calls me love and so I crook my finger, gesturing to her to get her practically nonexistent a** closer to me.
"I'll see you later darlin'" And I'm proud that I'm not quite conceding to her point, though it still means not winning my own. She comes out from behind the counter, green starbucks smock tied tight against her, the threads hanging in droves behind her, because yes, she is really that f***ing skinny.
"uh huh, love." Her skeletal arms reach for around my neck and I happily, casually drag my hands to clasp around her waist.
The hug is quick, just a prompt touch of mostly chilly flesh to flesh( because it's almost fall, and neither of us have the right sort of common sense to plan for these sort of days.) and its over before it grows particularly intimate. I lean up and press a kiss to her cheek, and then after an almost absent pause of indecision (If I do will it change us? No, that's just stupid) a chaste one to her lips, because really that's what I wanted to do all along.

As I walk out, I pass him, her boyfriend, coming to visit her on her lunch break, and I really don't mind. He smiles at my small nod and barely there tilt of the lips, because I am the friend she used to be with so he wants my approval, but doesn't particularly need it.

And that doesn't hurt me, because I love her, and she loves me too, but we were never really meant for much more than we are. Beside, I'm far from lonely. And that's something, isn't it?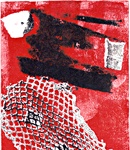 © John K., Wayland, MA