The Diary of one
September 21, 2010
Jenny was sitting in the corner of her room in the absolute darkness, where no one could find her. Only a thin stripe moonlight fell on the floor. That was October. Every night was getting colder and colder. Her body was trembling, but not from the cold. A feeling of unknown future made her feel lost somewhere in the middle between yesterday and tomorrow. She put her arms around her face, and cried. Salty tears were sliding down her cheeks falling on the knees. It was difficult to breathe, and blood pulsed in veins. It seemed like the world was a big black hole and full of s**t. Thousands of thoughts were annoyingly flying inside her head. One of them was: death. Jenny wanted to die - that was, probably, the biggest desire on that moment.
Suddenly something stroke in her mind. "I wanna die, -she thought, -Now." Jenny rose up from the cold floor and headed to the bathroom. She stopped in front of the sink. First five minutes she was just standing like that in front of the mirror looking at herself: eyes were empty and had nothing inside, only black holes in the middle; face was red from the tears, which were like acid burning her skin; hair looked messy. "What a terrible creature", - she thought. Jenny simply couldn't move, each inch of her body ached terribly. Arms and legs were heavy as if someone put steel chains around them. Breast was like in the cage, stomach squeezed her from inside. She felt like millions of small needles were under her skin, every movement was full of pain and unbearable.
Anyway the arm of a young girl slowly moved to a razor. She took it between her the fingers and touched her left arm. The razor was cold, and she could feel the pressure of the hot blood. Jenny put the razor on the vein in the middle of the arm. "You can do it", - she tried to encourage herself. Fingers pressed the razor which made a tiny hole. Blood started coming out slowly, but the hole was not big enough to die. She was ready to do it.
The fear of being dead was coming closer to her throat. It was tough to continue self-suicide. Again something stroke in her mind. She threw the razor away and felt the tear on her face. "I hate you!!!" - she screamed on her reflection as the feeling of anger covered her all. It was hard to control herself. The girl felt that there is something inside her, new unknown organism, new life in the area of stomach. "No..." - her voice weaked, the sickness was closer and closer, which was unreal to keep inside. She put two fingers in her mouth. In a few seconds she passed away.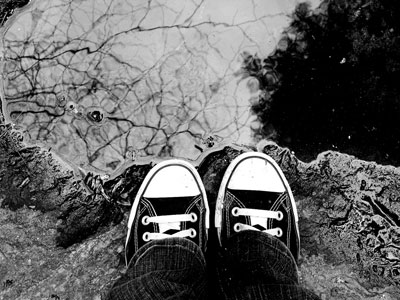 © Michelle B., Blairsville, GA