Super Heros
September 22, 2010
I have always wondered what it would be like to fly. Is it like swinging on the swings in the playground? It could be like bungee jumping or skydiving. I wonder what birds feel like when they fly. Don't you ever think about these things? If I could fly I would watch the world from the clouds, and I could fly to school. I might even be able to swoop down and help other people. I would want to learn how to fly at supersonic speeds, so I could go faster than planes. What would you do if you had the ability to fly?

I also have always imagined of being able to breathe under water. Like when fish are just swimming around down there living their lives. Being under water where the sounds are muffled is so calming. I could just sit down at the bottom of the pool for hours. Wouldn't that be cool to live under water? You could go to the ocean and look at sunken ships without having to lug around a big tank of oxygen. Or you could even save people in sinking ships. I would make waterproof books so I could read under the water and not be bothered. It would also be cool if we could talk under water and understand each other. That way I could chill with my friends at the bottom of the pool or swimming around in the ocean. We could all even play the game tea party even though it defeats the purpose of trying to understand what the other person is saying. I think I would choose to have these super natural powers if I had the choice. What would you choose if you could have any power good or bad?

I have never been quite normal, and I finally found out why. I was little when I got offered a wish to have any power I wanted. I got the power of invisibility. I can use it for good and bad. I used to go sneak into my parent's closets and look at my unwrapped birthday presents. I also used it to help find lost things and return it to its owner. So think really hard when you get to have this wish, and choose the right one. Maybe you are meant to be a super hero.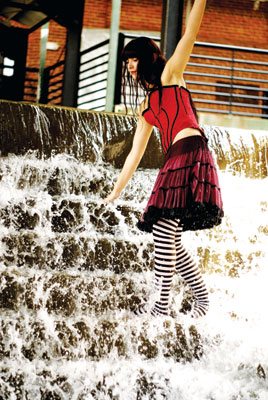 © Daniel H., Durham, NC