The Eyes of the Forest
September 20, 2010
She looked out as she did every winter. Alia was kept inside all the time. Mostly, she would sit and stare at her wall, but winter was her favorite time of year. The snow showed her how bright the world is, although she could'nt see it up close and personally herself.
She sighed as the trees swayed. Somehow, it made her sad to watch them sway, like they would fall someday soon.
Then something happened. Alia could've sworn she saw something; two yellow eyes peeking out between the trees. She stared intently until they came again, but this time there was more than one pair. She ran downstairs.
"Mommy!" the eight-year-old bellowed.
"What is it, honey?" the woman seemed scared at the panic of her daughter. "Is something wrong?"
"I was looking out of my window...and I saw...these eyes."
Her mother knelt down in front of her, smiling. "Oh, don't worry, those are the eyes of the forest."
"The what?"
"They are the eyes that watch over us, so none of the animals get us."
Alia's gray eyes lit up with wonder. "Oh!"
And she ran back to her room to gaze at those eyes.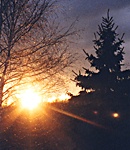 © Christy S., Germantown, NY