The Crystalline Pool
August 16, 2010
An invisible light shone off the glossy black walls of the cave. My eyes stared in wonder and amazement of everything that surrounded me here, it was simply astonishing. I let one of my hands lightly brush the walls of the cave and the texture of soft, smooth walls soaked into my hand as I let it lay rest there. Tip, tap, tip, tap. Sounds of feet pattering across the rock floor shocked me out of my dizzied state. I let out a clean, fresh breath of cool air and made my way over to the deep pool of azure blue water that lay in the middle of the cave. The whispers of the water drew me in "You know you want to find out," the voices spoke, hissing out each word from their invisible mouths. I was more afraid than curious, it seemed. For I could not get the courage to plunge into the deep waters of the pool.

Albeit, my curiosity grew with each second I stood there and it became increasingly harder to fight against it's urge. "Please...," they continued to plead, and I gave in within seconds. The edge stood just before my feet and I cast my eyes downward to look at the water. The depth seemed to be great and nervousness clawed at my insides. A large, raucous crowd stood behind me, and it seemed as though I heard them cheering for me to jump into the cool waters. I clicked my tongue three times and stepped off the edge. As I plunged down slowly, at least it seemed, my whole body was overtook with awe. My feet and arms kicked hard against the light current of the water. Soon there was no trouble getting to the bottom at all. Flurries of fast, freezing cold water rushed past me as I swam.

Crystalline rocks adorned the walls of the pool. My eyes widened in wonder of them, what wondrous things they were. It seemed as though another world existed beneath this surface of this pool. Everything was so beautiful; so colorful. Gold, silver and other various colors of fish swam beside me as I made my way up the spinning column of water that signaled the end of the pool. It seemed as if time was endless down here, for my breath never seemed to run out. As I reached the top my freezing hands gripped the rock walk ways. My body laid there for seconds on end staring at the swirling pillar just millimeters below me. Soon I found myself walking across the pathways still in shock of what had just happened. My walking ended while I stood at the bottom of the rock stairs of the meeting room. I stood breathing shallow gasps as my heart continued pounding from excitement and pure shock.

Each eye lay on me as my feet kept me glued to the ground where they stood. Finding myself capable of walking again I made my way over to a rock table. My whole body collapsed and I drifted off into a somewhat exhausted dream-like state. Millions of goosebumps layered my arms and it felt as though my whole body was still plunged deep into those azure blue waters. And, maybe, I just wish they were. Because I longed to be away from everything, I longed to be back in that other world.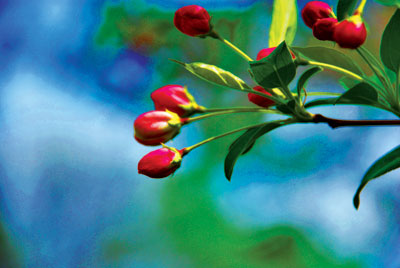 © Hannah B., Princeton, IL