A Posthumous Letter
August 7, 2010
I am dead.
I am seventeen and I am dead.
Not like I've done something bad and I am dead in that people are going to be mad at me, no.
I am actually dead. Gone. Poof. Like smoke into the air, our breaths mingling with it. The smoke and the breath, both, lose their essence. That sort of dead.
I was pretty popular as a fully alive human being. I know that it's far too immodest of me to say that. But I am dead. There are only a few things you can do as a dead person. And looking down at the world, wondering when the people you knew are going to find that out and start crying, is not one of the things I would like to do.
In my life that was hardly a life, I did some pretty crazy stuff with my friends. We had a lot of fun. So, I am pretty sure that they would miss me. A lot. I used to be the glue holding the wole group together. They would consult me on every silly and every serious matter. Yes, I am sure. They will miss my presence.

I was also a very active member of several clubs. The leader of two of them, too. The debate club and the Writers' Club. The teachers in charge always said that they had never seen a leader like me. I would organise everything. All meetings, all competitions, all events. Yes, I am quite certain. The members of the clubs would miss me.

I was also a pretty enthusiastic dancer. I was part of several international organisations based on dance, too. One of them was the Indian Students' Society. Another was the American Academy of Hip Hop. In Ashford, where I lived as a human being, you rarely find such organisations. The Americans and Indians I knew, all of them would say the same thing. That I was a terrific dancer and that since my addition to the groups, the stage seems somewhat alive with more than the spirit of dance. The spirit to live for dance. So, I suppose they'd miss me, too.

But I do feel guilty. I was never a good daughter. I would be rude to my siblings at every opportunity. I would disobey my parents at all times. I would never come home on time. I would always, always try to annoy them. Never did I once think of their feelings, even though I loved them. So, maybe they won't miss me. And why would they? My sister was the gem of the family and my brother was the heart. If anything, I was merely the black sheep of the family. So, no; they won't miss me.

I suppose it's time for my final jourey to earth. The Gods have granted me permission to visit my home and my school and all other important places of my past life, one last time. Sort of like a goodbye.

I hover above the city. I can see the well planned homes, the well trimmed gardens. I fly towards Dashton Street, to find my school. It's Tuesday. They'd all be in Drama class. Invisible and ghostly that I am, I penetrate through walls and doors and reach the class. They are all...happy. Have I entered the wrong class? It doesn't seem so. They are all there...Mr. Sheen, Katie Buckley, Emily Cowley, Nick Bradley, Andrew Rossitter, Emma Roberts...Mr. Sheen is saying something. Something intense. Ah, is that a tear I see?
Oh, no! They are all happy! Mr. Sheen is cracking some sort of joke!
I can't bear to see that. I slowly move out of the class. My friends don't seem to know that I am dead. Missing. Gone. Never to return again.

So, I make my way to the building of the Indian Students' Society. I see the receptionist. Ah, she is gloomy looking. Maybe they miss me.
I hover on towards the room where we usually dance. There they all are. Probably observing two minutes of silence, as a sign of respect.
But, what is that? They are all dancing! Outrageous!
I make my way towards the American Academy of Hip Hop. And no, they don't miss me, either!
Is there anyone at all in this earthly world who would care to spare a thought to the spirit of the dead?

I sigh, welling up with tears. As ghosts, we don't have much of a choice but to store the tears in. I learnt that on my orientation day, up in heaven. I don't get it...I went to heaven. Which means, I was a good person. But no one misses me! I need to go home. See my mum, my dad and Tony and Froila for the last time. Tony would be in his room, playing football. Froila would be reading. Mum and dad would be in dad's study, working out stuff for business. Maybe I can look at them once and then go to my room to collect my favourite things. They do matter to me, you know, even if I am dead.

I step into the house noiselessly. Or maybe it's the room that is noiseless. That's strange. No one is ever that silent. I go to my parent's study. It's empty. Again, strange. So, I climb up the stairs. Go to my room, first. If Tony and Froila aren't there, either, I don't see the point in going to their rooms, first. So, I head towards my room, my silhoette hovering in the long passageway. But what's this? My parents and Tony and Froila are here! That's strange. I was always rude to them. They never entered my room. They hated me. What are they doing here?
'Oh, Fred!' mum is crying. Crying. I am watching my own mother crying. It's the worst sight anyone can bear. God, I wish that on no one.
My father is consoling, his arms around her shoulders. Tony is crying, too. As the elder sister, Froila is trying to comofort him, too. I look around. My diary is at the foot of the bed, open at the page where I had once written a poem about them all. How much I loved them, that sort of thing. They are all crying. They all miss me. I want to reach out to them, tell them that I am fine. That God above and all his assistants are great to me. I feel twice as alive as I used to be on earth. I want to speak to them, tell them how much I love them. But I can't. For, I am dead. Gone. Never to return. Poof. Like smoke into the air. I lose all my valuable essence. I can't bear to be on earth any longer. I make up my mind to ask God to give them all peace. They are nice people. Kind and generous. With that final thought, I head towards the sky. I don't want to collect my favourite things from my room. Nothing remains. The memories of my family are all in my heart. That is what I need to live. Virtually, at least.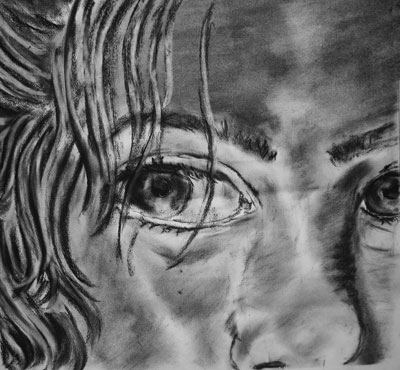 © Brooke W., Weston, MA