Plant-a-Keri
July 21, 2010
I was at my locker. Its January, a few weeks after the new year. My name is Roxeanne James. I am in the lead singer of the Band "Plant-a-Keri" I know its a weird name but its only because of the girls in the band.

Phoebee Lovegood. Lauri Swanson. Adrian Perez. Nikki Belcher. Tiffany Lee. and Keri Belcher. Nikki's sister. Keri started the band and wanted to make it to the big time, and she added the other girls names to make it fair.

When Nikki was fourteen Keri died. Car accident. Keri and Tiffany both died. Nikki took over and had another girl Mary Jane Goodman join the band. They were already friends.

I was offered the part of lead singer when Phoebee heard me singing one day in the girls locker room. I was sure that I was alone. Guess not. Every girl has a boyfriend and there all in Band. Not Plant-a-Keri but in the school band.

Phoebee's man "John Adams" was a percussion player in band. Lauri's boyfriend Benjamion (Ben) was a trumpet player. Adrian's boyfriend Adam was also a percussion player. Adam is also my brother. Nikki's boyfriend Tyler North trumpet.

Mary Jane's boyfriend Peter is a frenchhorn player. Mine? I dont have one. Luke Holley keeps trying to be mine. But i wont let him. I watch all five other girls come into the school building with there boyfriends. I saw Luke smile at me. Luke has blond hair and blue eyes. Luke plays percussion.

He's nice but is trying to hard to be with me. I was raped when I was seven years old. I told someone and next thing I knew I was placed in Foster Care. So was Adam. We never saw each other after that. Untill I was in the band

Adrian doesnt like me but i really dont care. Something is up though between her and Adam and I'm pretty sure it has something to do with me, sometimes I'll see them talking and I watch Adrian glare at me.

I love singing and perfoming. Everyone is sixteen. but me. I'm also the only freshmen in the group. I'll be sixteen in June. I remember Adrian talking to me one day...

"Look i'm gonna get right to the point. Are you sure Adam's your brother?"I stared at her

"Yes Adrian, I'm sure." She looked at me and sighed and shook her head. "You. . .dont know the truth. Roxeanne, Adam isn't your brother. He told me." I breathed in

she placed her hand on me "Thats not all. Look i'm not nice to you because i dont like you espically because of Adam. your a threat to me. Adam's adopted. Your not related. He's intersted."

I breathed heaveily "Well i'm intetsted. He'll always be my brother Adrian.To me he will." Adrian's eyes sparkled

"THats not how Adam sees it. He's braking up with me. For you."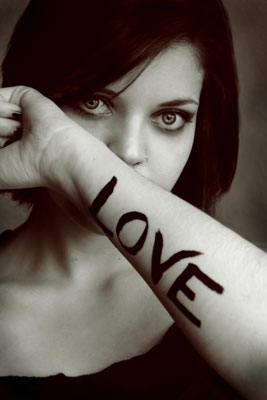 © Michelle B., Blairsville, GA