TV Matters
MAG
Thedoor opens and in steps a 17-year-old clad in a Lifetime band t-shirt, blackpants and leather jacket. He crosses onto the doormat and slips off his ChuckTaylor's to reveal cream-colored argyle socks, then proceeds to walk into thekitchen, turns left and enters the den. The television is on and a kid of thesame age is slouched on the couch, the light flickering on his face. The newcomertakes a seat on the opposite end of the couch, as far from the kid aspossible.

"I've figured it out," the newcomer says, and proceedsto explain. "This might take me a little while, so let me get it all outwhile it's still fresh in my head before you comment." He waits for anacknowledgment and when it doesn't come decides to go aheadanyway.

"I was doing a lot of thinking while I was walking over here,and I think I've figured out what it is I want to do with my life. I was justthinking about how great writers, artists and musicians have one thing in common- they, or their contributions, have been or will be remembered. So I'm figuringthat for my life to have meaning, I have to do

something so that I won'tbe forgotten. So that there will be two fairly normal kids like us, 80 years fromnow thinking, Man, this guy was one righteous dude.

"Now, I'm notsure how I'm going to be remembered, so I've decided to start playing guitar,take up painting and write anything that comes to mind. That way something good'sbound to come about. I need to do something now before it's too late and I'm leftto regret not doing anything. I just don't want to end up an old drunken fool,hating myself for not starting earlier or thinking it's too late to start then.That's why this has to start now, I need something. I think it'd just be a wasteof a life if I did otherwise."

He pauses, takes a few deep breathslike he has more to say, decides against it and instead asks, "So what doyou think?"

A few seconds pass, the other kid still watches thetelevision. The newcomer turns to the screen and starts to watch too, whenfinally the kid on the couch turns to the newcomer and says, "I'm sorry,what did you say?"

Not peeling his eyes from the TV, the newcomerabsentmindedly says, "Oh, nothing."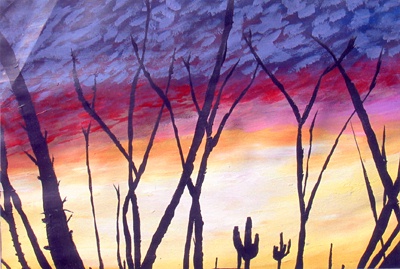 © Kassia C., Phoenix, AZ