Judged
May 23, 2010
Do you believe in judgment day? I didn't.
That is, not until then. I mean, who were you kidding? That kind of stuff only happened in movies or something. Besides, I had nothing to lose. No friends, no money, no life. Nonetheless, I did eventually undergo this fiasco. And those 7 days altered not only me, but the rest of world as well.






*
*

*

"Happy birthday Peeta," I muttered to myself gloomily. Yes, it was my birthday. The grand day every kid celebrates with family and friends. A cake would be served, and the star of the event would blow the candles all at while praying his wish for the upcoming year. But I'd always been different. So why should have a birthday had been an exception? I stuffed chips into my mouth nonstop. Finding nothing good on television, I shut it off and kept staring at the ceiling for a while when it happened.
Ka-boom! Suddenly, a bright light blinded my eyes ever so painfully that I wasn't even able to flinch. My ears rang out as if going through a long tunnel.
What the hell? I thought to myself. As my breaths shortened with impetuous panic, I figured there had to be some logical reasons to this. Maybe, maybe this light came from city fire. Or another one failed experiment of my parents!
Yes, that must be it.
After all, they had been stressing themselves over some electrical failure last week.
However, my relief vanished as soon as I sniffed burning flesh. If God had given me any ability, it was a hound-like keen sense of smell. Right that second, I knew, in my gut, that a hell broke. Cato! Where was my little brother? I began to rummage through the house. He was barely crawling under the half-burnt couch when I was ready to go berserk. It was the couch that I sat just a few minutes ago. Still on blaring fire, only a few inches of edge hung onto its dear life. A black hole appeared; ready to engulf me down into its nothingness.


"Peeta, what's going on?" That was what snapped me back to reality. Or should I say, beginning of hell. Cato's light brown eyes seemed to be shaking pitifully like a fly in a storm. Back. Forth. Back. Forth.
They are dead. A chilly wind cackled. I shivered. Jesus Christ! Why couldn't I just tell him? He was old enough; merely a year younger than my weakly self. As I stood there unable to say anything, he must have sensed it because a tear came down to his inflamed left cheek. This was just a dream.
Right?





*
*

*

"Attention! Attention! Crucial message to all surviving citizens of United States of America. This is Alaska. It appears that a nuclear bomb GK-3 of unknown origin has landed on the center of US, causing indefinite amount of casualties to all the states except islands of Hawaii and here around Canadian land.
We have just received the news, and our best prediction from experts is that incendiary radiation will spread out at a speed of 10 kilometer per hour. Rests of us are on our way to the rescue as well as contacting our central department of crisis. People out there, separate yourselves. Hang on… hang on…" Dad's ancient radio cracked in half. Awesome.
How were two simple-minded middle school boys going to survive a nuclear breakout? Not to mention that our parents have just been shattered. Literally. I sympathetically touched Cato's broken skin.
"Ouch!" He spat out. Then, I noticed. His spit was dark red. His eyes have also turned yellow. Yellow. Was that even possible? I swore I'd never in my short life seen him that terrified. Next days in the empty house seemed to float by as our wills to live ceased.




*
*

*

It started to get ugly.
As the injured determined to stay alive, they threw their morals and religions into a fire. The people who were just a few days ago, selling me fresh apples, teaching my class, and gossiping with my ma, were brutally murdering each other. Even the sight of our church and monastery didn't stop them from shifting into savages. And if they found out we contained food inside, it'd be a matter of seconds before we got roasted.

"Can you believe it?" Cato suddenly spoke, instantly breaking our long-term silence. Whatever it was, his voice sounded different. Instead of his usual upbeat and active tone, the new low, almost sadistic tone made my bones quiver.
All my life, I couldn't have had asked for a better sibling. He was the whole package: intelligence, looks, kindness, you name it. Being a 177cm giant at age 12, he didn't have to push too hard to be a shining star in his basketball team. Thanks to his God-endowed IQ of 145, obtaining straight-A's for him was easier than piece of cake. On top of everything else, he was a born a leader. I didn't want to admit at that time, but sometimes even my parents and I followed him without knowing.
But he was also a kid who pushed aside his golden medal to show my silver medal. He was a kid who could never pass a homeless bum on the street without making sure they had somewhere safe to sleep that night. People would always praise my parents and ask how they raised him so well. But now, he seemed to have turned into completely new specimen. As I thought of this, he smirked. Arrogant. Indifferent. Deadly.

But I blurted it out anyway.
"Yea" Who cares? We barely kept track of day and night anymore due to the foggy gas outside surrounding our house. It circled us as if to single us out. Weeks became days, days became minutes, and minutes became seconds.
"Bet you they'd kill us faster," he snickered. Surprisingly, I agreed.
I knew exactly what he meant. He desired a quick exit. First, we were so malnourished at that point that slight movement could easily break our bones. It wasn't due to shortage in food, but rather a complete loss of appetites. In this state of destruction, eating was last thing on our mind. But unlike Cato, I regained a sense of sanity. We shouldn't let them come in. Sure, the death would be much quicker, but we were family. Family stuck together no matter what.
"Don't," I groaned with last bit of my strength. A short phrase, but he would know what I meant. I didn't want to continue the conversation. A peaceful, thoughtless death would be nice, thank you very much. But then Cato glared at me with such flaring fire, looking for seriousness in my dying eyes.

"Make me," he huffed. As he began to stand up slowly leaning against a chair, I panicked. Pow! I couldn't help it. I kicked him as hard as I could. As much as I loved him, I wished to rip out his gut that minute. What a brave retard, to abandon everything and me, to accept that much gruesome death.
While I preferred a slow, freezing death, Cato had already chosen a speedier way out. We froze for a moment; seizing up each other with disgust.
Then, like God's joke, he dashed out the door before I could reach out.
Another black hole appeared, this time swallowing me in whole. But not before hearing screeching screams ripping through the thin air.

When I woke up, I could tell it was night from the faintly moving moon.
It moved in a vapid pattern. Just like Bobby's eyes. Cato! My stomach twirled, draining all the energy from my body. All the images flied across my mind again: him suggesting we open the door, his scream… Letting myself destruct, I floated upon the thoughts.
Then, I noticed something else was in the room. Or someone else. I assumed.
"Reveal yourself," I demanded with such hostility that even I was taken aback by its venom.
"Zsssst," It muttered something unintelligible. How eccentric! This was no weird creature; just a tiny, purple-haired boy. How did he even end up here? I wondered. Nevertheless the doubts, I handed him my blanket. We were all dying, anyway. Might as well do one kind thing before facing God. I embraced myself for a coup de grace when I heard him.
"People will die. It's… It's coming." He whimpered. His accent was foreign. I couldn't exactly make it out, but somewhere… somewhere of Ukranian accent.
"What?" I confronted in horror. What was coming?
When he didn't reply for what seemed to be a long time, I rephrased my question.
"What do you know about this?" I asked.
"My people. Under the ground right now. Have a big explosion thing." This time he answered quickly. He continued.
"Soon, people die again. Help!" his unstable voice shook me. During the next few minutes, he explained to me this whole madness. According to the boy, he was a Russian descent like I suspected. His parents, preeminent EOD technicians, had been long involved in overthrowing American government with many other people, eventually winning the support from Council of Ministers, the Russian chief executive body. Equipped with scientists and weapons, they had just invaded the Southern part of US when American Navy captured their army. Left with no choice, the Russian side set the bomb off, blowing off the whole nation with only a handful of survivors. But my question still remained unanswered.

"How did you get here?" I asked patiently.
"The Underground Station to bomb… New York… is in your basement," he said grimly.
At first, it didn't make sense. But slowly, I matched the puzzle.
Betrayal. Hatred. admiration. All types of emotions conflicted upon me as I realized. My dad. I could imagine his smiling, wrinkled face. As one of the most influencing scientist in the world, he was a remarkable man. But despite endless praises from American politicians, citizens, researchers, and President for his phenomenal accomplishments, I knew he didn't like them. He never liked America, the rotting nation of unwanted brats. I still remember him pounding his fists into the wall the day his creation of sonic ray was exploited to kill thousands of foreign rebels, who were calling for America's blood for we killed their children. No need to understand further, I gulped.

The boy then asked me to help him stop his own people's attempt to bomb another millions of innocent. In a split second, I had to decide. Given that my father hated United States, should I refuse the boy's request? Or follow voice inside my head, to spare them? I thought of all my neighbors and friends who were dying.
I nodded.




*

*

*
Inside the hard-cored metallic door, deem surface showed. We'd spent some time digging up route to the basement since everything collapsed. The door creaked, annoying the hell out of me. Our grim determination reflected off the metal surface.
Peeking, we could witness huge men marching through the space inside.
Black-haired and olive-skinned, the angry looking men marched to the unknown. Somehow, they looked familiar but I shrugged. The boy nudged me to show me his own square-shaped bomb. He told me earlier that he had designed it himself before. Just in case. Never doubt this phrase. I didn't bother asking more.
"Now what?" I hissed.
"I place the bomb here. When the minute passes, boom!" he threw his arms in the air as if to indicate its powerful ability. Hopefully, we will close this thick metal door all the way before the bomb... Before I could finish my thoughts, with a superhuman strength, he threw the bomb into the open field and we closed the door shut waiting for the blow. No more, I cried. No more.





*

*

*
Many years passed. But I can remember those days like it happened few minutes ago. I'm too close to death to tell you the whole story, but I will tell you few things. That was the very start of the nuclear era, now part of life. And I survived.
I'd received another chance to live and breathe. But was I saved?
I think not.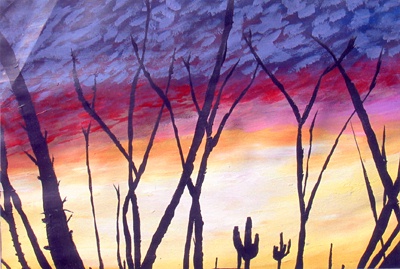 © Kassia C., Phoenix, AZ