The Girl
May 14, 2010
A girl about 12 was walking through the forest looking around at all that Mother Nature gave and she heard a sharp sound coming from the bushes, she didn't know what it was so she went to go find out. Then when she gets close enough to the bushes some guys grabs her by the arms and takes her away. She started to scream but he puts his hand on her mouth so that no one can hear her. The guy takes her into his black van and drives off. When she finally opens her eyes she see's three guys. She can't see them because she is still dizzy from when the guy shoved her into the van. All she can do is hear, she over heard the three guys talking; she can't under stand them because they are speaking another language that she doesn't know or even heard of.

All of a sudden the van stops and she hears the van doors open and she dashes for the streets as fast as she can go. She ran far and hard as she can without looking back. When she gets to a stop she takes out her phone and calls 911 and reports where she is at and what happened. They track down the phone but they can only catch one guy out of the 3.

Her mom comes speeding down the busy high way and finds her with the cops. The mother comes to a fast halt and turns around and stops next to the police car. The mother walks out crying going down her face and her make-up all down her cheeks. She starts to yell at the police man trying to get info about what happened. She grabbed the daughter and tells her to get into the car and buckle up. So the girl did what she was told. A couple of minutes later the mother slams the door shut and the engine rawrs to life. The mother speeds down the street not caring if she gets pulled over. Because all she could think about was getting her daughter safe at home.

When they get to the house, the girl stomps up stairs and slams her door and locks it because she cant believe that she was kidnapped. She turns up her music and starts to write her thoughts in her journal that she writes in everyday.

When her dad gets home, she runs down stairs, gives her dad a hug and says I am glad to see your home. The dad looks very confused but still hugs his daughter. The dad looks into the daughter's eyes; he could see and feel the pain that his baby girl had been through without asking.

At dinner the daughter started to talk about her day and she told him about the three guys that kidnapped her and that she ran away without getting hurt. The dad gave her a blank look. He looked very confused again. He finally started to talk and that he shouldn't have left her alone and that it was his fault that she got kidnapped and that he won't leave her again putting the blame on him.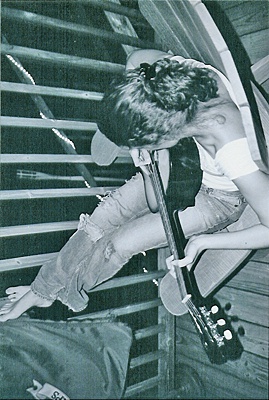 © Kendall B, Katy, TX