A Rose in a Bundle of Thorns
May 20, 2010
The hospital room had the largest window I had ever seen, bringing in every possible ray from the morning sun. The cloud white walls made everything brighter, more cheerful. I wanted my room back home to be like this one, with the sun reaching out to me every morning and whispering "Good morning" between its strict rays.
I was four years old and my mother had just given birth to my brother. She sat in her bed, hair frayed, eyes tired. But despite her tiresome strength, she still managed to hold the baby admiringly.
He was the first baby I had ever seen, and I was repulsed by his tiny, alien-like hands and his saliva dripping mouth. Still, when I saw my mother caress his bald head, I knew he was now a part of our family. The way my mother looked at him, as I can recall, defined what love really was. She was almost in tears as she smiled down at him, where he looked innocently back.
My father, on the other hand, was a different story.
He barely smiled at the newborn, without stroking its thin fingers or admiring its bright blue eyes. Why had my mother shown so much love but not my father? It seemed like he was standing in an invisible shadow, drawn away from us, distant. This perturbed me and gave me chills in the sunny, warm room.
But as the years passed, the sunshine faded into a foggy dreamscape. I was ten years old, my brother was six. I found that I didn't love my brother liked my mother did for he would always scream for her, cry when he didn't want to take his bath, and throw toy blocks straight at me.
One day, I ran to my father, crying, saying how Dean had hit me with his toy soldier. I would've told my mother, but she had gone out shopping for new elegant hats and dresses. This had now become a weekly basis.
My father was always my second choice. When I told him about Dean, he stared down at me, coldly. I backed away, inching towards the hallway. My father held his cold stare, his eyes angered but for what reason? I had done nothing wrong.
He abruptly stood up, and strode briskly past me. I watched him walk down the corridor and down the spiral staircase. I heard him rummaging through the kitchen cabinets, and then stomping back up the stairs. I saw that he was carrying a large plastic garbage bag.
"Go to your room," He shouted at me when he saw me staring. "And be grateful that you have toys to play with."
I didn't understand what his last statement meant, but I didn't care. My father had scared me so much, with the way he spoke and the way he stared. I was in my room in seconds, under my blankets, forcing myself to take a nap. It was a bit hard with the sun shining through all three windows, but I managed. I slept a dreamless sleep, blank and black. When I awakened, the light in the room had changed. I sat up and yawned.
I sleepily walked out of my room and walked down the long hall towards Dean's room. His door was ajar. Thoughts of what my father had done with the plastic bag crowded my mind relentlessly, like an overly curious cat. I gently pushed the white door open, and it swung softly inward. Once before, the room had been filled with shelves and shelves of toys; blue cowboy figures, multicolored blocks, dark green soldiers and glimmering plastic cars.
Now the shelves were bare. And Dean was sitting up on his bed, staring out his window, crying silently
A year passed by. My resentment towards my father never eased, never went away.
"Mommy," I had once asked while we were getting ice cream in the city, "Do you love daddy?"
She looked at me, curious. She took a spoonful of her pink ice cream and said, "Love is a very complicated thing." I think she was just answering for herself and not me. Dissatisfied, I dipped my spoon in the softening desert and brought it to my opening lips. It was the last meal I would ever eat in Paris.

My father had a knack for sneaking out at night. I always noticed it but I never knew exactly where he went. Was he a secret agent? A vigilante at night? Oh, the imagination of a child's mind. How far from the truth it really was.
One nigh, I followed him. I snuck out with ease and followed him on foot to a side of town I didn't like to go to. The streets were cracked and the buildings were tagged with slang and vulgarity. I continued to quietly walk, keeping close to the shrubs beside me, unsure of what would come.
My father neared a brick building, with cracked windows. He walked through the wooden doors and I saw a light flicker on in the window. I approached the window and peered through it.
A man was tied to a chair with a rag in his mouth. Another man stood beside him. I saw my father stand before the tied man, talk for a few moments, and then he raised the gun. I could feel my eyes widen as I realized what was coming. I looked away and jumped at the gunshot. I fell away, feeling like I was falling down a deep, deep, well. My father had killed a man.
I ran home, sprinting as fast as I could, trying to throw the horrid image of my father's murderous act out of my mind. I needed to tell the only person I truly loved: my mom.
I continued to sprint, my feet clacking loudly on the ground. My towering, dark home came into view. I ran even faster, wanting so badly, so deeply, to be in the arms of my mom.
Hot tears swam down my face.
"Mom," I whispered.
Before I knew it, I had grasped the large brass doorknob of my home and was racing up the flight of stairs.
"Mom!" I shouted. "Mom, I need you!"
I landed in the empty hallway. My mother appeared at the very end still in her elegant nightgown. "Peter, what's wrong?" I ran to her and jumped into her arms.
"I saw Dad," I muttered. "I saw him kill someone."
I looked up into her eyes and saw that she understood. A realization spread across her face, as if all the puzzle pieces were finally falling into place. Me telling her this confirmed what her biggest nightmare of all was. She had known something was wrong, but she never knew exactly what it was, until tonight.
She whispered in my ear. "Hurry. Go get your brother and pack your stuff. We need to leave in five minutes." I obeyed immediately and ran to my room, threw my toys and clothes in my bag, and went to wake up my brother.
We were in the car in minutes, my brother too tired and too young to realize what was happening. My mother was speeding down the street like a drunk driver, muttering phrases like "I knew it all along,". I was confused but didn't want to show it. I stared out the window and up at he full moon. It was yellow and striking.
My mother brought us to a motel, where we stayed for a few weeks until she found a small cottage in the countryside.
The first night was the hardest. My brother couldn't find his teddy bear and was crying all night long for it. My mother, already stressed enough from trying to find a job, was having panic attacks. I wanted to help; but I didn't know how. My brother was sitting in the center of the living room, crying, and my mother was lying on the couch. I went over to her and hugged her.
She hugged back and whispered, "I love you."
School was hard after that. One day I was sitting class, reading my Sherlock Holmes novel. Then the break bell rang but as students raced out of the room like a herd wild sheep, I moved at a snails pace. My classmates couldn't identify with me, couldn't relate. I tried to fit in; I talked about movies and celebrities, but my comments were always overshadowed by someone more attractive or funny. So I spent break reading, instead of playing on the rusted playground.
When school finally got out for the day, I quickly ran to the bus. Rain was pouring down like a monsoon. I sat on the bus, my hair dripping. No one ever wanted to sit with me; I didn't fully understand why. Did I look unfriendly? Was I too quiet? This really didn't bother me; I didn't need friends.
Instead, I salvaged my loneliness by mailing my cousin. I told her everything that was going on in my life. I scrawled letter after letter, whether I was sad, happy, ill, or tired. She was the one who understood me. She knew exactly how to comfort me, to bring hope into my eyes, and even make me life at the hardest of times.
"Peter, a letter came for you," My mother had once said. I was sitting in my room, reading Romeo and Juliet. My mother handed me he letter and I tore it open immediately. I was sixteen years old at that time.
The letter read,
Peter, I have some news. I'm moving to the United States, where I'm pursuing my career as an actress. This means that I won't be able to write to you as often. I just wanted to tell you one last time that I know you can make it through whatever challenge comes your way. Look at what you already fought; your father's secret life, your parents' divorce, your dimwitted brother. Please understand that I love you and hope for the best. When you need help, go to your mother. You know that she loves you and will always be ready when you need her most. I know this world is a hard to place to live in, but I know you can do it. Try your hardest for me.
I love you.
Rebecca
My tears fell from my cheeks and landed on the letter in dark pools. I reread the letter once more, twice, as if the words would change somehow. But they remained, as solid as stone.
I placed the letter on my dresser. I stared at it for a moment or two and then grabbed it, ripped it up, and threw it in the trash.
I then rushed over to my bed and cried, wishing I could somehow leave this place. I imagined where I'd be in forty years, maybe in a bungalow in Venice or a penthouse in London. Anywhere but here, the middle of nowhere, the center of nothing.
Forty years later, as it turned out, I was living in a small duplex on a quiet road in Paris. I wasn't a millionaire lawyer nor an award winning film score composer. I was a mere man who painted buildings for a living. My duplex wasn't the biggest, not the fanciest. But it worked. I had not succumbed to a white trash hobo, like my brother had when he turned eighteen. I wasn't an alcoholic, not a druggie.
I was none of these things for one reason: I didn't want to disappoint my late mother, who had always wished I lived a good life. And I was. I enjoyed the quiet neighborhood and I enjoyed cat Oliver. I was a man with very few needs, which I learned to be from a very young age.
Half of my family were men with habitual problems.
I, however, turned out to be a man with principles.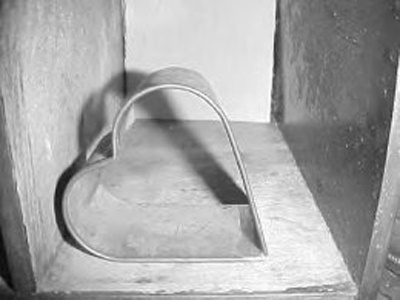 © Liana D., Somers, CT