Broken
May 13, 2010
The hallway is crowded; irritated students press against each other edging towards classes. Friends bellow greetings, ramming into my shoulders, but I hardly notice. I feel empty as I float through the halls, hoping, praying I don't run into him.
He appears around the corner, hand clasped in hers. Coldness sinks into my stomach like a melting ice cube. He gazes at me unsure whether to say hello or continue walking. He decides on a half nod, half grimace. I pretend not to notice staring intently ahead. My eyes burn as I blink away angry tears. I can't help but relive moments that now seem remote.
I remember afternoons sitting at the piano in the music room, his fingers dancing lightly across the keys as the tranquil melody of "Clocks" twinkles about the room. I remember every sideways glance he threw, making certain I was interested, craving my approval.
He tried to teach me to play. I was incompetent and he'd tease me about my lack of talent. "It's easy" was his reply to my anguished complaints. I recall the feel of his callused hands covering mine as he led them through the notes and the warm sensation of his breath against my neck as he laughed on each stumbled key.
The bell sounds overhead; a distant humming in my ear. The hallways are empty as students dart into classrooms slamming doors behind them. I'm unfazed as I continue to amble through the memories.
I cross into the memory of us sitting in the auditorium, his head resting in my lap. It had been a long week and the pressures of opening night were pressing on our heads. He was worrying about his solo as I offered reassurance. My fingers were weaving through his sandy curls as I hummed softly and he sang.
Then I remember opening night and my heart aches. I remember his sweaty fingers in between mine as the nervousness ate away at my lower abdomen. I can still see his outline inching towards me in the dark as his lips pressed gently against mine. I can still feel his tongue the light brush of his tongue, the warm tingling sensation that spread across my heart and I choke on the realization.
The memory floats into the cold November breeze as I step outside towards the portables. Hot tears freeze on my cheeks. I hastily wipe them as I make my way across the sidewalk hoping, praying I won't see him again for the day.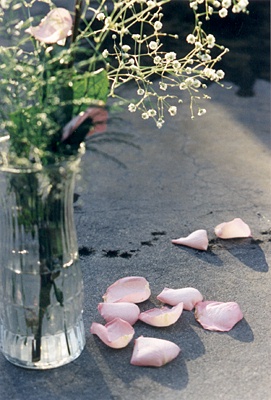 © Mary A., Fullerton, CA