Artist
March 27, 2010
I sat on the bench on my wooden porch, watching the leaves of the trees fall, their colors vibrant in the sky. Leaves sure are something interesting. They flutter through the boring blue sky, lighting it up with their reds, greens, and oranges. How beautiful it would be to sit here and watch leaves all day. I pulled out my notebook, and started to sketch the sky and leaves.
You see, I'm an artist. I find all things beautiful, especially nature. I flip to a clean page and take out my dark charcoal pencil and start to outline trees. I start at the very trunk of the tree, drawing just an outline. Then, I move to the branches and lightly draw those in with my charcoal. It glides across the paper, and I sketch the few beautiful leaves that are remaining on the tree. After completing just a rough sketch, I move on to shading and detailing the tree. As soon as I have finished, I tuck away my charcoal into my pocket, close my notebook, and stand up.
Today is just like any other day, I guess you could say. It's been my usual routine for a boring Saturday. Wake up, eat breakfast, go outside and draw. Always, my Saturdays are like broken records. Never changes, never gets better, or worse. Just nothing. I am an ordinary girl with ordinary dreams, as any other girl. When I was a kid, I wanted to be a doctor, or a veterinarian. As I got older, I took a few art classes, and realized my calling was to be an artist. Drawing is just something I love, and I do it all the time. I make it a point to go outside everyday and draw.
For three months now, I have been attending the art classes at the local college, twenty minutes from town. I, among many, have a gift of drawing. At the class, the teacher gives us assignments in which we work on for many class periods. They are difficult, but nothing I can't complete.
When the teacher looks over my work, she tells me, "Arielle, these sketches are just beautiful…where did you learn to draw like this?"

"Uh, I…I don't know. I guess it's just natural. Nobody in my family is an artist…" I whispered. Being my shy self, I turned away, hiding my blushing face.

Soon enough, as always, the rest of the students in the class came over to see what I had sketched. Today, it was a girl I had drawn on the fresh paper. I've seen her in my dreams before. She's dressed in a pink petticoat, her hair down to her chest, pin straight. This girl seems to be scared, or thinking, or looking at something. I'm not sure which it is, but in the dreams, she is always the same.

My drawing depicted her as scared. I drew her, very detailed, on the page, looking slightly down. Her long eyelashes touched the tops of her eyes. Her neatly trimmed eyebrows were full, dark, and beautiful on her. She had a freckle right next to her right eye, but just a small one. With every detail, I drew and shaded her perfectly from my memory.
Her face, hair, and shoulders, took up the whole page I was using. My drawing was tacked up on the display board for all college students to see. I felt almost embarrassed, and I didn't want the drawing to be displayed there. Although this was a good opportunity for me to get noticed, I was still too shy to get further with my artistic abilities.
After class was over, I quickly gathered my charcoals, pencils, and other materials and stacked them on top of my drawing pad. I shuffled my feet out of the large college classroom, making sure I was out of there before the teacher could say anything to me.
Keeping my head down, I walked at a brisk pace. Before I knew it, all of my materials had been knocked down to the floor. I looked up. It was some guy from my art class. He was tall, skinny, and sat in the back row. Not even bothering to apologize, he stood up and left.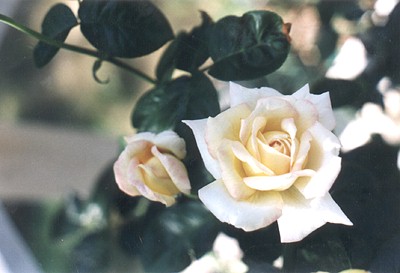 © Jacqueline S., Hanover, MA