Leather Chairs (part one)
March 26, 2010
I lean against the leather seats, running my index finger along the inside seam of my light blue jeans. I watch the people come and leave the room, the door clicks shut multiple times. I watch them and their faces silently, observing their inner-most emotions. I don't know them, but I feel as if I've met them and read their whole biography on past days in a library.
A woman enters the room. "Aerron, it's time for your appointment." She is slender, with sleek black hair and a form fitting grey suit. Square framed glasses sit on the bridge of her nose and she pivots on her high heeled shoes. I follow her into the white room.
I glance around and pay close attention to the objects that cover the dead room. The walls are an off white shade of paint, but they are covered with paintings of flowers in vases and beach sceneries. A small circle clock hangs on the wall over a long, blue couch. I turn to my right and watch as an older woman, probably in her late fifties, stands up and approaches me. She smiles, reaching out her right hand to greet me. I stare long and hard at her hand.
"I don't want to be here," I say, almost a whisper, and turn around. She sighs heavy through her nostrils and touches my shoulder, light with affection.
"Aerron, we have an hour to talk. Please give it a chance." I walk to the couch and sit on it, crossing my legs and looking down at my fingers. I interlace them and watch how they almost connect with one another in contrasting movements. The older woman walks over to a leather chair and sits, pulling out a forest green clipboard and a ball point pen. She starts scribbling furiously on the blank paper. When finished, she looks up, but I look back down immediately, stretching my sweatshirt sleeves over my arms.
"So, where should we begin?" she asked, clicking her pen. I raise my eyes and stare at her. She places down the clipboard on the carpet, and crossed her right leg over her left. The clock ticks over and over and the sun barely shines through the almost opaque windows behind the woman. She stares at me, becoming impatient and I roll my eyes at her sudden annoyance.
I look down at the couch and focus my mind on the way the seams of the couch wrap around in circles on the outer layer, like they are showing only half of who they really are. Like the inner circles are hidden by only what others who sit on this very same couch look at. Like they shouldn't even be seen, yet they are. Like it's just one big accident. How fortunate.
The older woman gets up from her chair and sits next to me. I slouch and slightly move away from her, trying to move inconspicuous. She touched my arm, and spoke, almost a whisper.
"What was his name?" I kept my stare on the couch, feeling a tear well up behind my eyes. I kept my mouth plastered shut and she spoke again.
"Please tell me, Aerron. I won't judge you, I'm here to help. I want to make you feel all better. Talking gets it out," she said, not giving up on trying to get me to talk. I barely opened my lips.
"Jeremey."
She looked at me, waiting for me to look back. It was almost as if I could feel her stares lasering through my soul, even though I knew that she knew nothing about me. She repeats the words "please talk about it" to me at least one hundred times. I hate those four words. I've heard them for the past five years and they mean nothing to me anymore. I remained seating, emotionless. After multiple minutes, she shrugs her shoulders and walks away. I cough and pull up one of my sweatshirt sleeves slow.
"Oh my…" she says, practically a whisper. A tear trickles down my cheek and sits on my bottom lip as I focus on dried blood stains on the inside of the sleeve.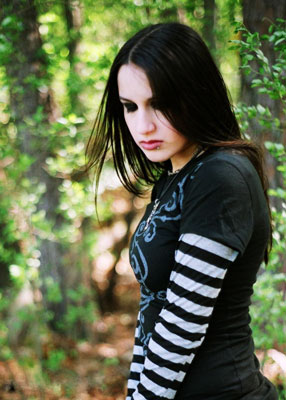 © Rebecca B., Marietta, GA