TogetherFOREVER
March 4, 2010
It's a Saturday morning. The sun is on the horizon; I sit up and rub my eyes.
"Mm pancakes."
I walk downstairs, they creak with every step. Not sure why, I stop right in the middle of the stairway, and look out the window to my left. I saw so many things that I appreciate now, more than ever.
"Emilee?" Mom shouted, "That you?"
"...Yeah", as I bite down on my lip, "it's me Mom."
"Get in here and eat some breakfast, I swear to it you're as skinny as..." Her voice fades off. I stopped listening.
I was still at the window, staring blankly at my baby brother on our old, broken down swing set, on the verge of extinction, but he loves that swing set. Sometimes, I wish Tony would just stay five. He lives it too well, has too much fun. I dread the day when he grows up to see that not everything is as magnificent as an old swing set.
"Just keep swinging, Tony."I mutter to myself.
"Emilee!" Mom yells from the bottom of the steps, "What has gotten into you?"
"I'm fine, Mom, I'll be down in a sec."
I walk down the steps to see my sister, Katie, sitting at our dining room table. Our eyes meet, and we smile at each other. Katie is beautiful. Curly brown-golden hair, big green eyes, with long full eyelashes. I am all of the same, except, she has an amazing body, while I'm...still hoping. So, we're twins, identical twins. Born together, we live together, together, well, we liked to say forever, but all that has changed.
It was a Friday night, Katie and I, and about twenty other friends, were at our friend Macy's house for her seventeenth birthday party. Let me tell you- if not for the disaster, that changed my world forever, it would have been one of the best nights of my life. We were all dancing, having fun, laughing, it was good time. Katie was dancing with her oh-so-perfect boyfriend, Richard. Even if I thought he was scum, even knew, I kept my mouth shut. I knew she loved him, more than anything. As for me, I was trying to build up the courage to ask Ryan to dance. Ryan Smith. Lives right up the street from us. To me, he's unbelievable, beautiful, but, no one else sees that but me, and I don't understand why. He plays the piano. I guess the word 'plays' is an understatement. He's amazing. He hits every key just, so...perfectly. I've listened to him play many times, each time I fall more and more in love with him and his music.
"I can do this." I whisper to myself.
Emilee, come here!" Katie calls me over.
My eyes widen, my jaw drops, and my cheeks turn rosemary pink. I guess I dozed off, because I never saw Katie wander over to where Ryan was standing. She had a huge smile across her face, I loved her smile, and then she winks at me and motions me to walk over.
"Hey, guys, having fun?" I asked.
"Yeah, this parties great!" exclaimed Katie.
Real, cool." Ryan said, "Emilee, want to dance?"
I stutter. "Sure."
Ryan takes my hand and leads me out onto the wood floor. A rush of heat runs through my body, my hand starts to sweat. He puts his hand on my waist, as I put mine on his shoulder. This Moment was perfect, although, it was soon forgotten. After we danced, we talked for a little, laughed a lot, held hands, and he kissed me. Like I said, this night, would have been the best night of my life, if not for Katie being so oblivious to about, everything.
I was getting my stuff to leave, and I had just said goodbye to Ryan. I was with Macy, we were the only two left. Macy was talking, to me I guess, but I wasn't really listening. That's when I looked out the window. That's when I saw it all happen.
They jumped out of the moving van, grabbed Katie by the shoulders and started dragging her towards the car. Another Held Richard back. She began to scream. Macy stopped talking.
"No!" yells Richard.
"Leave her alone!"
Katie's still screaming with tears rolling down her face. Her nose starts to bleed, in her attempt to break free of the iron grip around her waist. This was the last time I saw Katie.
I drop my cup of punch; it lands on the wood floor with a splash.
By the time Macy and I made it out the door, the strangers were gone, and so was Katie. Richards face was covered with blood, he tried, but he never would stand a chance against a full grown man, well that's what they seemed to be. You can still hear Katie's cry, but it's fading, fading fast. That, in itself, scares me to death. We run to Richard, and bend down to help him up.
"R-R-Richard..."I stammered. My throat was dry. I swallowed. It only got worse.
"Emilee...I'm, I'm so sorry. I..." I cut him off.
"Richard, please, I know it's not your fault, but they're getting away. We need to call for help."
The rest of the night was a blur.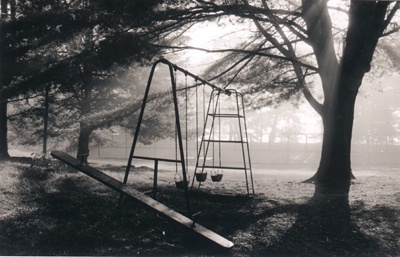 © Steve S., Marblehead, MA