Come In
MAG
"Ricky, did you hear me? I asked you a question."

The eighth grader looked at the floor as his teacher tried to talk to him. Ricky had been sent out of class again for being disrespectful.

"Well, if you're not going to answer me, then I have no choice but to call your mother."

Ricky continued to look at the floor until he heard the door close. After his teacher was gone, he sat on the floor and waited for his mom.

Ricky had always been a quiet kid, but lately he had become even quieter. Several people walked by but he didn't look up. When the sound of high heels stopped, Ricky looked up and saw his mom with her hand on her hip. Finally she said, "Let's go. I don't have all day. I have to get back to work."

Ricky followed her. Neither said anything the whole way home. Ricky just played with his Game Boy. He got out and closed the door as his mom drove away. He went into the house, made himself some mac and cheese, and played his Playstation until he fell asleep.

The next morning he found a note on his bathroom mirror.

"Sweetie," it began. "Will you please behave today? I have a very important meeting so I can't leave work." He took the note and threw it to the side as he wiped away the mist from the shower. Ricky took his time getting ready; he didn't really care if he missed the bus. Besides, his mom would never know if he went or not. He didn't like school anymore. In fact he hated going, but he went almost every day, even if it were only to get away for a while.

Walking home from school, he heard laughter and saw a boy about his age playing football with his dad. Ricky paused. As he watched he was taken back to a time when everything was good: when he was good in school, when his mom was home, and when he would play football with his dad. As he remembered, he could hear his and his dad's footsteps splashing in the puddles in the slippery grass. They would play every Saturday, no matter what.

Ricky also thought about the last day he had seen his dad. The last day that things were normal. He had been taken out of school early that day by his parents. They had gone home and watched the news all day. There wasn't much conversation; they all just watched. Then the phone rang. They had been expecting a call, so it wasn't a big surprise. His dad packed up his firefighting gear, kissed Ricky and his mom good-bye, and left. That was the last day Ricky saw his father.

Ricky stood there thinking about that day until he felt a hand on his shoulder. He heard a lady ask, "Are you okay?"

Ricky just put his head down and walked away. When he was sure no one was looking, he wiped the tears away. He tried not to think about much. In his house he picked up a picture of his family and sat with it for hours. He just looked at it and thought about the good times. Then he heard the door close. Ricky looked up at his mom with tears rolling down his cheeks. His mom took one look at him and, as she turned away and dropped her briefcase on the counter, asked, "Okay, what did you do now?"

"Why can't we be like this, the way we used to be?" Ricky asked, holding up the picture.

"What are you talking about? That's us; we are like that."

Ricky threw the picture on the couch and said, "You would say that," before running upstairs to his room and slamming the door. Ricky sat on his bed with his fist twisting inside his hand, waiting. He knew his mom was coming. Ricky sat up straight as he strained to hear where the footsteps were going. If she comes in, I'll talk to her. I will be good, I will listen, thought Ricky. He sat and waited. Then he heard a knock. His grip on his fist tightened. He took a huge swallow of air as though he were holding a mouth full of water. The sweat on his hands became visible as they began to twist faster and faster. He closed his eyes tight as he inhaled. Ricky held the air in for what seemed an eternity. Then finally, as the air left his lungs, he relaxed all his muscles, loosened his grip on his hands and with a low voice said, "Come in."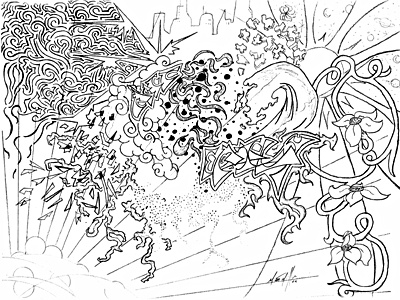 © Matt M., Ponca City, OK