The Best Part of Me
March 13, 2010
So what if I'm dumb? So what if he broke up with me? So what if he's dating Gabby now? I ask myself those questions everyday. And yet I still sit by the phone everyday, hoping he's going to call and apologize, say how much he didn't deserve me, how sorry he was. But it didn't happen. I couldn't bring myself to ask the question… so what am I going to do now? Because that would be giving up, it would be moving on. I don't want to move on. He was the best part of me, I'm in pieces now that he's gone. I don't know what I did, what I could have done differently for that matter, that would make him stay.

I was sitting outside his apartment tonight, something different. I was actually debating on going in there, until I saw Gabby walk out of his threshold, giggling and smiling appreciatively. I could just imagine what they were saying.

Gabby says, "I had a really great time tonight, your house is amazing."

Then Andrew will say, "no, you're amazing, Gabby."

And she smiles, and then he leans in for that very first kiss, and ah, there it is, the sound of my heart cracking a little more as I watch them kiss. I put my car in Drive and speed away quickly, trying to get out of there before the sobs racking my body overcome me.

Okay, so going to see him, not a good idea. I just don't understand how we could have been together for so long and then he just leave me, without any notice! One minute, I was telling him I loved him, after all, we'd been together for eleven months. And he gave me a sweet smile, and I figured it implied that he thought the same, and then the next thing I know, Wham! We're through. And via text message, can you believe that?

I was sitting in my old Mustang in a Dunkin Donuts parking lot, trying to calm myself down. I finally wiped my tears away, and was surprised when I heard a knock on my window. "Yes?"

I asked, seeing a frail little girl, with a bright fluff of red hair on top of her head, she smiled shyly, "are you Paige Kelley?"

I nodded, "yeah, what do you want?" I said, a little too harshly because she flinched.

"Um, some guy in there," she pointed at the donut shop, "paid me to give you this letter," she said, and then scampered off.

I picked up the envelope, it was rather thick, surprisingly. It had a faint scent of… lavender, yes lavender on it. I opened it up, scared of what might be inside, coming from a stranger I could not see. I picked up the letter inside, it was only a page long! Why was the envelope so thick? I peeked inside and noticed a bunch of rose petals at the bottom. I began to read it regardless, curious as to why a stranger would send me rose petals and a letter.

After I finished, there were tears in my eyes. The letter was from Andrew's brother, it read:

"Dear Paige,


I know what you're thinking. You're probably thinking who the heck is this guy, and why did he send me a letter and rose petals? Well, I'll tell you who I am. I'm Andrew's brother, Ryan. I also know you probably do not want to even think of his name right now, after what he did to you. But I want you to know, that he talked about you all the time. Every time I spoke with him on the phone, we always spoke of you, and only you. I can promise you he did have very strong feelings for you, but regardless, he ended things because he is an idiot, for absurd reasons that I have no desire to ever repeat. I know it hurts you that you don't know. And you probably thought that I would explain everything to you, set your life to rights. But I can't, only Andrew can tell you why he ended your relationship, not me. But I just wrote this to tell you, that you are beautiful, with your strange, almost catlike green eyes, your perfectly arched eyebrows, your gorgeous brown hair that shines in the most unusual settings, and just the way you walk and talk. I want you to know though you may think the best part of you was my brother, it wasn't. The best part of you, Paige, is just simply you. You are the best person, I have… never met. I feel like I know so much about you through my brother, and just by looking at you. When you walk in a room when I'm in there, my heart stops beating, you captivate my attention. I've read the articles you write for the school paper, and they are absolutely magnificent, just like you. I've seen the way you treat everyone with a respect that majority of people don't deserve. I've seen the way you look at my brother, which he does not deserve, if you knew the type of person he really was. I know you probably think that Gabby is prettier than you, but she is not, and Andrew is an idiot. You are absolutely beautiful just the way you are, Paige. And the rose petals? They're for every time I've seen you, and you've made my heart skip a beat. Go ahead and count them, there's a hundred, those are the number of times I've seen you. I don't know you, I've never met you, but I have feelings for you stronger than anything I've ever experienced. It's like your soul, it calls out to mine. I felt like I had to say these things to you before you go back home, now go on with your life, and don't worry about me, okay? Goodbye, and good luck, Paige."

I threw the letter and envelope down, rushed into the donut shop, searching for Ryan. I didn't know how, but I knew what he looked like… I just had to find his face.

And there he was, much more handsome than Andrew was, he had blonde, hair with waves that looked like they belonged to the ocean. He had deep blue eyes, that were staring down at his coffee. He had strong arms, and was rather muscular. I ran over to him, breathing harshly after running, and then I yanked on his arm. He looked up into my eyes, and gasped, "Paige?" he whispered.

I pulled him up, and then stood on my tiptoes, to give him the most passionate kiss I'd ever give anyone. My arms wound around his neck, and his around my waist. And the sound of my heart sealing back up, without a bruise. When we pulled away from each other, I sighed, and melted into his arms, "your soul calls to mine too, Ryan," I whispered. We stood there, holding each other for what felt like an eternity, and only thirty seconds at the same time.

He finally pulled away from me, but kept hold to my hand, as if I was his personal drug, "you're the best part of me, Paige," he said quietly, and the whole room applauded. I hadn't known that they were watching, but I didn't care. Who was Andrew, but a part of my path that led me to… my soul mate? The best part of me, as well. I finally knew what love really meant. I knew I had just met him, but as he said in the letter, I felt like I've known him forever, and I suddenly knew I would. Love at first sight. I sighed and melted back into Ryan's arms, gave him a kiss, and then we walked out hand in hand, and my future was brighter than ever before.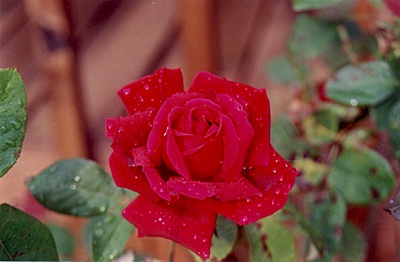 © Jami U., West Hempstead, NY