Between
MAG
She was young enough to still believe in the basic goodness of people, old enough to have begun to inherit the essential qualities of an adult. For one wild and brave butterfly moment, she was free, free of the compartments, free of the stereotypes.

It was the summer before sixth grade and the heat dripped off the whitewashed apartments in sticky currents. Spit would sizzle on the sidewalk; bubble gum melted in pancake pools. Men walked outside shirtless on weekends with wrenches to yank the caps off the fire hydrants, back muscles taut and smooth.

Every Friday she sat alone at Hal's Family Diner, life spinning in a dizzy blur as she spun around on the red plastic stools. It was always the same order - had to be so Hal didn't ask with that deep, rumbling voice of his - banana split: chocolate, butterscotch, and extra strawberry swirls.

She wouldn't talk while sipping syrup noisily through the barber-pole straw. She simply thought about growing up, about that awkward stage (no longer a child, not quite a teenager) when people expected nothing of you, except the old women with lemon-puckered lips who shoo you off perfect lawns with a broom held together with duct tape.

She'd thrown away all her Barbie dolls in a clump of plastic perfection one wild, daring day in April. Later she'd missed them like the clouds missed the sky, secretly regretting her leap from a comfortable, solid plane to an unsteady new one.

One day in July the mercury cracked the glass tip of thermometers. Everything moved slowly, like the parts of an egg begrudgingly joining in a frying-pan fusion. The birds hung in the sky, dark castoffs of winter apparel. Cars floated lazily past, hydroplaning on the slick surface that glinted with a rainbow patchwork of motor oil.

She was walking to Hal's, that same familiar obstacle course of concrete and brick when she heard it - the far-off sound of laughter. The air was so fluid and heavy that their voices plodded through to her as if the sound waves were swimming through a boiling pool of rice pudding. She searched with her soupy eyes until she saw them: three elementary-school girls playing dolls in the small yard in front of an apartment. The dresses of the toys were faded with love, bruised with the battle scars of stains.

She felt a pang in her chest, a longing. She was a bit of toffee being stretched in two directions. She almost doubled over with the pain, sensing the phantom heart attack and waiting for it to pass, but it didn't, and she stood gasping, a living statue on a concrete ocean.

In her mind she saw two spheres, the orb of adulthood, that golden globe of existence, and the small, confined fence of childhood. She held one in each hand like a scale perfectly balanced.

"You're the nurse, remember?" one of the little girls said, shattering the traffic jam of light and sound.

She could not help but watch for a while, agape, immersed in the complex plot, the tentative climax, and the reluctant conclusion.

Hours passed and still she stood undecided at a crossroad. It was brilliant, she finally realized, fragile, almost like spun glass catching light, far more mature and insightful than any grown-up creation. In its sheer simplicity, the play of rag dolls on a dull afternoon was on a higher plane than even the one she stood on, on another world she didn't know - or had forgotten - existed.

Suddenly, with a lightning-strike of agony, it hit her. I once could do that. She delved deeper inside, searching for those untapped worlds of knowledge, but in vain, of course. She no longer knew how to play or how to belong to their existence. She had, after all, in an unseen flurry of banana splits and reluctance, grown up.

But in the cataclysmic moment she realized this, with the disc of the sun tilting off the horizon, even after all those months of waiting to be older, the painful dreams of maturity, all she wanted was to be a child again, to have just one more game, one more fraction of time.

But it was too late.

She'd made her choice.

Slowly, ploddingly, she resumed her path to Hal's, walking the same path she'd walked every day since she could remember.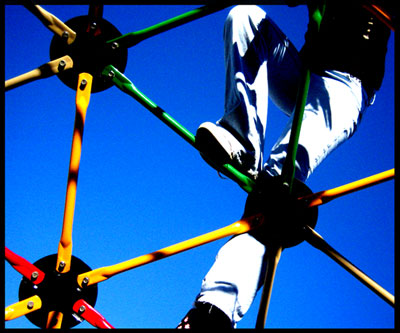 © Brittany T., Ocean Shores, WA