Peaches
February 21, 2010
Before I write down everything I feel, you should know that nobody gets me. No one even understands who I am. Yeah, they say my name the right way and play the role of my friends in my life movie. But no one knows me; sure I think they'd beg to differ. Honestly, I don't care if anyone really knows me because I know how to be myself all on my own. Or at least try and become the person I'd like to be.

All my life I've been the girl who grew up in a stable household with nice caring parents, nine brothers and sisters with love that would last a lifetime. And on a peach farm, with the "juiciest and most scrumptious fruit of them all", Mrs. Lanahan at my church used to say. On the outside looking in you would see that, a nice loving full family with food on the table and warm clothes during the winter. On a farm out in the middle of nowhere harvesting a fruit that God himself must have kissed. Not to say all of that isn't true, because it is.

I just wish that someone would see me for me. Not "The girl who grew up on a farm", or "The youngest of nine!" just Me. Plain Me, with the long wavy red hair and the green eyes. But I want more than that; I want them to look inside of me to see I am just a girl hoping for a boy to love me back. For a boy to call me beautiful and not "cute", because that word makes my muscles cringe. I have wants; I know some are too far out to make any sense. But deep down in a place no one is willing to look, I hope for the best of things in life. Not sure how I'm going to get those things, or how I'm going to get a boy to look at me twice. But I know that a sensible girl like me will get what she wants. Because who ever said that growing up on a peach farm with nine brothers and sisters, a momma and daddy that would give the world, was a bad thing. Obviously didn't get that experience in life, because even though no one knows me or calls me beautiful. I have hope and billions of peaches to help me along the way.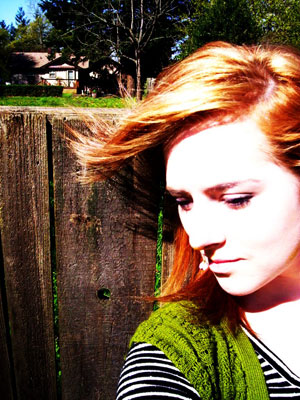 © Anna K., Portland, OR