The Complaints of the Dead Juliet : A Monologue
March 1, 2010
They say that love is such a wonderful thing. They also say that I'm a perfect picture of it. I'm sure you know my story. I mean, who doesn't? My name is Juliet. Juliet Capu- I meant Montague. I guess Capulet is now my maiden name. That's so weird. It feels like just yesterday, Tybalt was pulling my hair and teasing me about my freckles and that creepy Paris guy was staring at my bosom. Now Tybalt is dead. And Paris. And me. And my Romeo.

Oh Romeo, Romeo, wouldst thou go away Romeo! I know what you're thinking. "This chick killed herself to be with that guy, why is she so bitter now?" Well, is every wife always so completely ecstatic to be with her husband all the time? Uh yeah, I think not. And it really doesn't help when no one else can hear you or touch you or even know you're right next to them, except him.


I mean it was great at first. I mean absolutely wonderful, astounding, beautiful… any other word you can think of. But kissing and all that can get a little… boring after a while. So wretchedly boring. All he wanted to do was touch my face and look at me and kiss me. Bleh… oh goodness. Thinking of it is beginning to trigger my gag reflex. Uh. Okay. I'm better.

So after the whole Incident, ya know, where he drank the poison and I stabbed myself, well we both turned into ghosts and sat around watching everything. Ro-ro's dad actually made a statue of us and put it up in the square in Verona as a sort of peace offering to my papa. The statue was really cute. I was like this (poses) and Ro-ro was like this (poses facing the opposite direction). We looked like we were deep in some eye-conversation. I saw some of the pre-sketches, some of them were pretty fun. Like there was this one where Romeo was already dead at my feet and I was standing above him, the knife in my hand. Some of them were just completely goofy. Like there was one where I was collapsed in Ro-ro's arms and he was screaming in pain because he had lost me. Chee-sy.

Soon Verona became boring for us and we started traveling. Years past and all these things changed, and Ro-ro became so much more annoying. That infatuation that our whole play was based on did die down after the first hundred years or so. And getting to actually know Ro-ro was just a bit painful It was like every girl he saw he would fall in love with! Did that make me feel like crap? Uh... DUH! The boy couldn't keep his hands to himself. His ghostly hands that is. . He dragged me to the homes of hundreds of girls just so he could look at them. "I look at those ugly wenches so I can better appreciate those sparkles in thine eyes, my darling!" That's what he said. What a skeez right? Well… he's my skeez. And at this point, I guess there's nothing I can really do about it. But, I guess it does help that I'm the only one he can really touch though. All I have to say is that I could always find Paris's ghost and well... you get the point.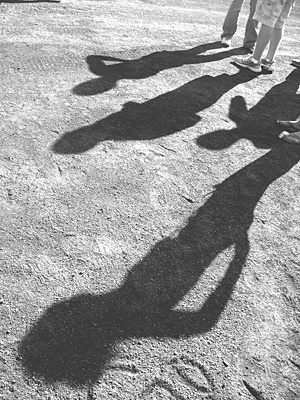 © Trella R., Mountain Lakes, NJ