The City
February 9, 2010
Pointlessly we wandered through the streets at night; our hands clasped tightly, and held out in front of our bodies. Our feet were white and we floated on clouds above the dirt-washed pavement with its tacky cement textures, surveying the city below us with squinted eyes, failing to see it clearly yet blinded by the brilliance. Lewd women stretched out in dim lighted street corners, smoking tinsel in tattered intense clothes: they jumped out at us. They were held up and together by their own weaknesses, and try as we did, we could not take our eyes off them. Their disarray and dispirited appearance coupled with their flesh shown unashamed and transparent attracted us. It looked like an adventure and we closed are eyes and imagined their lives with a naïve innocence, adding jewels and decadence to our day dreams. Those women seemed like distant mountains, gorgeous and unattainable. We were smitten and wanted to climb, to find, to know, to seek.
But we kept on our journey with a renewed vigor, excited by the looming sights and our own discovered desires. Our hands now intertwined we walked forward quickly with heads whipping side to side, like a puppy chasing its own tail. The smoke stained city shone with a glamorous hazy ambiguity, its windows lit up and imperial. We were drawn in by the power of industry and the noise of running minds calculations but tumultuous and eager people rushed all over and they bored us. We wandered through grocery stores, fishing for adventure, and contemplated physics by the melons, and danced with a black man and a Jew by the frozen goods. It was tantalizing in the parking lots, the starting up of engines and the rush of masses doing the impossible was dizzying. We twirled hand in hand and stuck our tongues out to catch the dirty snow that tasted like soot, grit, and fast food; it tasted like people, it tasted like a City.
Skipping along now, we skid around street corners slick with snow, bumping into people and getting into fights. Angry people made us laugh, they were so into the present and unaware of the future, so narrow, so insistent. A five year old orphan taught us how to break elevators and we sat huddled and listened to the shouts of the people stuck in the limbo we created and felt powerful, listening to their cries and pleads for help. We laughed until our bellies ached and fled when we heard sirens.
We ran through that city and educated ourselves on what was important. We stole hot dogs and fed them to starved dogs, which licked us in thanks. We played hide and seek on the subway tracks and rode the high of our own daring, racing down those dark tunnels, yelling and banging on the walls, rolling in the dirt and trash, the music of our joy drowned out every time a train came by. Pressed against the tunnel walls we were blown back by the din and force of the train, insignificant in the might of mans inventions, we held our breath and made a wish in its presence, more certain in its power than that of a distant god.
Later we sat on the top of a moderately tall building, breathing in the dirty air in the shadow of sky scrapers, and looking at a view of scattered buildings that reached for the stars. We held our breathe, closed our eyes, and just reveled in the feel of the city thrumming beneath our bodies like a breathing entity and wondered if this was what sex was like. Our heads thrown back, we lay content in the snow, encased by a fog from our breathing. We chewed gum and made soot angels, giggling. The sun rose and we snuggled down, ready to sleep again as we slipped in the abominable routine of every day life, our motion ending with our desires briefly satiated.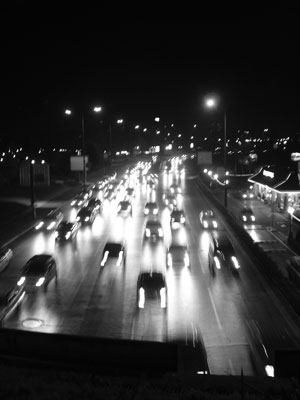 © Marietta S., Pleven, Bulgaria