Harry Willoughby: Child Genius
MAG
Piano music filled the beautiful Victorian home of Mr. and Mrs. Jackson Willoughby, number nine Homer Street, and carried through the open-for-the-purpose-of-the-whole-neighborhood-hearing-and-being-duly-impressed front doors.

For this was not just any old piano music being played at number nine Homer Street. This was Beethoven's Für Elise. And it was being played quite perfectly by a seven-year-old boy.

A very proud Mrs. Willoughby came up behind her young son and clasped her hands together rapturously. "Oh, my lovely child!" she cried. "My dearest, darling, lovely child!"

But Harry Willoughby was far from a lovely child. Small and skinny, with straw-colored hair, sallow skin and a permanent scowl, his first word had been "No" and it was still a noteworthy occasion when he said anything else. In fact, his mother had been not at all fond of him until just a few days ago.

She had been curled up with the latest biography in the comfy armchair in the den at the time, but she had not been able to concentrate. She was thinking about a highly perplexing problem: it had become quite the fashion to have a genius child, and all her friends had at least one. Mrs. Bumble had a son who wrote clever little poems; Mrs. Plum, a daughter who had won all her school's spelling bees and, of course, there was Mrs. Maddox with five children ages nine to 16 who were learning to speak fluent French. But she, Mrs. Jackson Willoughby, had the rotten luck of having the only completely and wholly unremarkable child in the entire city!

Harry got C's in school, rarely spoke, and spent his time either holed up in his bedroom or at that stupid piano where he was pounding away right now. She had stopped paying for his piano lessons months ago - a healthy child would have forgotten it all by now ... what was he playing? Some difficult-sounding classical piece. It sounded like - did children his age normally play pieces of that sort?

"Jackson, dear," Mrs. Willoughby addressed her husband, who was sitting on the couch buried in the newspaper. "Jackson, what is our Harry playing?"

"Your guess is as good as mine, love," he said. "But it does sound like Mozart to me." It sounded like Mozart to him because Mozart was the only composer he knew.

"Yes, yes," she agreed vaguely. "Or Chopping, perhaps."

It was, in fact, Schumann's Carnaval. When Mrs. Willoughby couldn't convince Harry to write a clever little poem, she called his old piano teacher and held up the phone so the music could be heard, and found out what it was. She also found out that Harry had been the most brilliant piano student his teacher had ever had, or possibly even heard of.

So now Harry was his mother's dearest, darling, lovely child.

"Sweetheart," she began, giving him a big wet kiss on the cheek which he promptly wiped off, "Some of Mommy's friends are coming for lunch today and you are going to play some very nice piano for them, aren't you? You are going to make Mommy very proud, aren't you, sugar?"

Harry stopped playing to glare at her. "No! No! No!"

Just then four ladies appeared in the open doorway. Rachel Bumble, Winifred Plum, Cathy Drabble and Eleanor Maddox were all, like Mrs. Willoughby, plump middle-aged women who wore large hats and rather too much makeup.

"Oh, come in, come in, do make yourselves at home," Mrs. Willoughby crooned, ushering them in. When they all were seated comfortably, with their hair patted and their purses arranged, Mrs. Bumble said, "My Stuart wrote such a clever little poem yesterday about how much he hates spinach. It was so I wouldn't make him eat any at lunch. And only six, too. Isn't that just terribly clever of him?"

"How positively cute," said Mrs. Plum.

"Why, that is so very darling," said Mrs. Drabble.

"How droll," said Mrs. Maddox, "how excessively droll."

Mrs. Willoughby said, "Quite ingenious. And speaking of geniuses ..."

"Excuse me, Constance, dear, but could I have a cup of coffee?" Mrs. Bumble interrupted. "So sorry, but I am just dying for some coffee."

"Yes, so am I, I do believe," said Mrs. Plum.

"Me, too. Quite," said Mrs. Drabble.

So poor Mrs. Willoughby had to get coffee for everyone, and so there would no further interruptions, she brought out little sandwiches cut into triangles as well.

"As I was saying," Mrs. Willoughby continued when she was comfortably seated again, "I have discovered an incredible genius in my son."

Four heads turned in the direction of Harry, who was sitting sullenly on the piano bench with his arms folded, kicking his legs against the bench like an angry two-year-old.

"Oh, uh, really," said Mrs. Bumble.

"Do tell," said Mrs. Plum.

"He is a brilliant musician!" announced his mother importantly. "His piano teacher says he is the best student she ever had! He can play ..." She fished around in her purse for the list of songs she had made a very disgruntled Harry write down and selected the most impressive sounding one. "... the Bach adaptation for organ of the D-Minor Concerto Grosso!"

A large gasp followed - this was astounding news.

"Oh, my, that one is very difficult, indeed, if I recall," said Mrs. Bumble.

"It is quite challenging, really, quite," said Mrs. Plum.

"I did not master it till I was at least ten, to be sure," said Mrs. Drabble.

"How droll," said Mrs. Maddox, "how excessively droll."

Mrs. Willoughby was in her element. "Spelling and French are all very well, of course, but I think being such a phenomenal musician at his age ranks with graduating from medical school at 13."

"Of course, Constance, dear," Mrs. Plum replied unpleasantly, "if he can really play that well. Harry, can you play as well as your mommy says?"

"No! No! No!"

"Oh, that's just this obstinate phase he's going through," his mother explained.

"Oh, really adorable, I do say," said Mrs. Bumble.

"How cute, how darling," said Mrs. Drabble.

"How droll," said Mrs. Maddox, "how excessively droll."

"Show everyone how amazingly you play, dear," Mrs. Willoughby told her son, "Go ahead."

Harry grinned. And lifted his index finger. And slowly, painfully, played Mary Had a Little Lamb with one finger.

There was a stunned silence.

"That was Bach's ... that was the piece?" said Mrs. Bumble.

"'It really isn't at all the way I remember it," said Mrs. Plum.

"How droll," said Mrs. Maddox, "how excessively droll."

Mrs. Jackson Willoughby of number nine Homer Street knew she ought to say something, but even if her brain had been able to think of what, the words would have gotten all stuck in her throat anyway.

"Harry, is this your mother's idea of a joke?" said Mrs. Drabble.

"Yes," Harry said.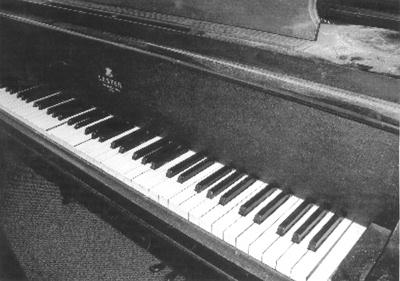 © Katie Q., Milford, CT