Free At The Sea
January 28, 2010
I was only seventeen when I decided to run away from all of my troubles and be on my own. My life seemed to be falling apart towards the end of my senior year: my parents had just announced to me that they were getting a divorce, my boyfriend of two years had just moved to Boston and broke up with me, and everyone at my small-town, Kentucky school was harassing me for well, being me.

I had never been the clean-cut type of girl, never wore makeup or frilly dresses like the 'popular' girls. My fingernails were always dirty, my hair was always in a ponytail, and I was always more comfortable in my old ripped jeans than one of those skirts that my sisters tried to force me to wear. People would call me mean names and often tell me to 'go back to the farm.' a 'plain Jane,' I had never gotten much attention from any boys, but on the first day of freshman year, I met the boy of my dreams.
Bobby was sitting behind me in band. He played on the drum set, I on the saxophone. He was more of the rocker type, never judged a person for what they looked like or what they wore. All he cared about is whether or not they cranked out 'sick beats,' and just someone to have a good time with. We became instant best friends, and when he asked me to be his girlfriend, I was ecstatic. I would go to all of his garage band shows and hang with him and his friends. They just considered me 'one of the guys.'
When Bobby told me that he was going to Massachusetts, I was set on going with him. My mom thought it would be a great idea, since I would be going to college soon anyway, it would be a good chance to 'find my own path of life.' My father on the other hand, disagreed, saying that I was 'too young to be in love' and if I went, I would be 'marked with sin.' When I told Bobby how irrational my dad was being, he fell silent, and told me that he really needed to focus on his music career, and no longer had time for a long-distance girlfriend. I was broken hearted. My only true friend just disowned me to simply take a chance at becoming famous! Of course, like any caring ex-girlfriend would do, I supported his decision, wished him luck, and carried on miserably.
My parents disagreed on everything, always fighting into the late hours of the night. I would often lay awake and listen as tears glazed my eyes, hearing arguments and threats, and my mother screaming. I guess I was being naïve when I assumed that it was just another fight. I figured that all married couples fought like this, and it was normal in a healthy relationship. Unfortunately, I was wrong, and one day, they finally sat me, along with my older sisters, down and told us that they were splitting up. I hadn't been too surprised, I knew that the fighting too frequently got out of hand, but I was still upset because now our family wouldn't be a family anymore. Holidays would have to be split, we would be missing someone on our vacations, and money, too, was going to be an issue.
Fortunately, I had been working at a diner on the outskirts of town, getting paid $7.15 an hour, along with the occasional tip that I had to share with Margaret, the old, frumpy woman who filled coffee cups and gossiped with our 'regulars.' Since I never played any sports, I was able to work every night of the week and Sunday mornings, our busiest days, which were always filled with church-going patrons arriving in their 'Sunday Best.' When I started this job, I was only fourteen, and by then, I had saved up a pretty large chunk of money.
One night, while wiping tables, I was observing a man who seemed to be caught up in a business call. Displayed on the counter in front of him were brightly colored pamphlets and brochures, each announcing services such as 'Weekday bus trips to New York! See the Rockettes!' or 'Tour the West! Trains from Indianapolis to San Francisco! Weekly Trips Starting at $299!' Casually, I sidled over to take a closer glimpse. I saw the phone number, wrote it on the back of a notepad, and continued my work. Thoughts of sunshine and briny breezes filled my mind. 'I have more than enough money to travel, and quite a bit to live off of for awhile.' It was then that I made the decision: the day after graduation, I was going to go to California to start my life over.
May crawled on and June slowly crept by. Finally, I found myself dressed in my yellow cap and gown, marching to 'Pomp and Circumstance' with the rest of my classmates. Tears filled their eyes as they hugged their pals goodbye. I, on the other hand, was overwhelmed with excitement, for I was going to 'The Golden State' in the morning.
I left in the middle of the night, so that Mom wouldn't question where I was going with my suitcase. The taxi was waiting outside my house at 3:15 A.M. The chilly night air would have cut through my thin t-shirt and cooled me to the bone if I had not already been jubilated with anticipation. The little yellow car, which smelled of alcohol and vomit, took me to the train station. Boarding the train, my mind quick flashed to my mother, and how worried she would be, but I knew I would be talking to her soon. I hurried to find a seat near a window so I could look out at passing farms and houses. After quick blow of the whistle, the train left the depot and chugged away towards the west.
That was nearly eight months ago. Since then, I have enrolled at a community college in San Francisco where I study journalism. I live in a small dormitory with two other girls who quickly became my new best friends. On the weekends, we take trips to the beach for sunbathing and 'boy scouting.' My mother calls me everyday to see how I am doing, and she is planning a trip to visit within the next two months. My life has completely changed and I am much better than I was before.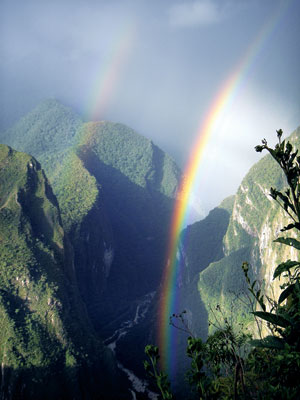 © Benjamin C., E. Norwich, NY