So I Thought
January 26, 2010
On that starry night, we gazed at the diamonds, dreading reality that would soon encompass us once more. We conversed and I got a good look inside his mind. His thoughts were so intricate and each word spoken was a new memory for me to cling to. I was in love, or so I thought. I know now that we were too young, that we didn't grasp what love was…or so I thought…

When he left me, every memory flashed before my eyes, every moment relived and cherished. And even after so long has gone by, about a year, I still cannot talk about his departure, and the life that he left behind.

Now I sit here in the dark, thinking, once more, on ways to forget about him. My reveries fail me, and I indulge in the work thrown at me by my superiors, letting it take control of my concentration. I haven't lost hope or faith for him, but every breath I take launches a new fear in my direction. Every dreaded round of lethal bullets sets off a new horror in my mind that I might get lost in my own mind, or lose myself in the journey to get him back to me.

I just wish that I was a little girl again, not knowing the ways of life. Ignorance is bliss; I never realized how true this statement was until now. Never again will I take for granted the unknown knowledge trapped away from me in the prison of misunderstandings. All the pretty scenes hide what's behind it all and the actuality of it all ways on my shoulders… so much so that I've constantly been falling and faltering. I should have never let that beauty fool me, but I did.

I secrete it all from the ones I love the most. I am their constant, their rock in the raging flood. I fight my salty tears with and upturned face and a light in my eyes that isn't genuine. I tell them that all is well, that I'm doing just fine.

Another year goes by and I find myself still powerless to talk about it. Even though my mind told me that is was tolerable to talk about his absence, I still can't bring myself to acknowledge it. It's been two years since he left us in his wake, in the dust, towards the future he had without me… devoid of us…

The romance and the care and the obsession we had with one another diminished in an instant, leaving me reeling. He looked absently from us, turned his eyes to the vastness and closed his eyes towards me and towards his child. No matter how much I want to forget him, have tried to leave him in my past, my dreams keep him there. He forgot about us a long time ago… Our love dwindled and vanished, disappearing in the breeze on that fateful day. I still remember him, his image is as crisp and real as the frigid winter winds that freeze my heart… but he doesn't remember us.

Everyday, since his leave, I've hurt. I will always feel the dreadful pain that is glue on my skin.

Moments pass throughout the day where all I can do is clasp my hands and beg for him to return, to remember all he has left behind in this small little town he called home for so many precious years. I hope and pray to God that somehow, some way we will find each other again, and when we do, we will witness something that is bigger and grander than anything we could have ever imagined or hoped for, so finally I can talk about it… we can talk about it…

Instead of fading, my hope has gotten stronger and stronger in the passing years, that maybe, just maybe, he will come and seek us again, and we will find that spectacular miracle, that wild abandon that will give way to the wondrous feeling of each other in each others' arms afresh.

In all of these silly thoughts and dreams and hopes for the future, I see the beginnings of a rainbow stretching beautifully across the horizon. I'm unafraid of the majestic beauty that has transpired in the disappearance of years. And somehow, in the core of these reckless conceptions, Jesus was there, lingering for me to find Him.

There is no maybe pertaining to the fact of mine and his reunion. He will come again to us. To me. To his son. We will unearth that something there that is in between us, that something that goes beyond what we ever could have envisaged or longed for.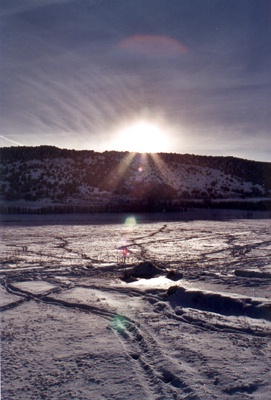 © Brandon T., Manila, UT