Blowing Bubble is…..
January 4, 2010
This is how I looked back upon the past years' occurrence.

One day, I found the old bucket of the bubbles. It doesn't look old, but I remember that I got this when I was young. I don't exactly remember when. Still, I could recognize the old bucket which was for my birthday present. It has a mysterious story.

It's not that huge compared to others. This pink old bucket was from my best friend of Lilly. On my birthday, she gave it to me without wrapping and said, "This is your birthday present. It's my favorite bucket, and I thought it may be great if I gave you my most favorite thing!"

After that, her family moved to California and of course, she left. That was it. I mean that gift was the only one that didn't leave me besides her. Yet, I don't know exactly how to use this bucket and don't know what to do with it.

After one year, I needed a pail to pour all of my bubble water and I had a bunch of those, because my favorite thing to do was to blow the bubbles. So I got profusion of bubble, and I had to get those in one pail. I finally found nice pail, and it was the one that Lilly gave me before she left. Then I quickly thought that it might be nice, if I put my favorites in my old best friend's favorite. So few years later now, I found it in my warehouse, when I was cleaning and organizing the things for my move to Kentucky.

I felt different and new. I mean this bucket is old, but my mind was fresh. I feel warm and tenderhearted from Lilly. Also, I was considerably surprised that that old one is still laid there to wait on me. I took it over to the backyard and carefully opened it. The bubbles were looked the same as I poured those last years. I thought I was in different world. I wanted to try some bubbles and see how it works. I picked the stick to make a bubble, and I blew it. At one moment, I thought I was an illusion. As I blew one of the big bubbles, I could recollect all happenings from the years before in my head. For a few moments, I kept blowing and blowing until I could think of any special happen that I wanted to deliberate again. I had a bunch of issues and there was the one thing that I wanted to think over.

I was a friend of Caroline, and she was my best friend before Lilly. When we were in 3rd grade, we used to hang out on Saturday night and go shopping. We both liked to go to the mall, and her fashion style was the same as mine. So we know each other so much, and even she knows whole story of my secret than my family does. Every time and every day, we always stick together, and if we had some anguish, we customarily worried about it like it was our own problem. We thought we have special friend, and we were congenial amity. Everyone was envious Caroline and me; therefore we were proud of ourselves. For our friendship, we got necklace that said, "Caroline & Bella, forever!" So we promised that we will never break our amity.

After two years, before this happened to Caroline, we had a great time of sleepover from my house on Friday night. She said that she is going to travel to Florida for her Grandmother. So after we watched TV and played ball, she left at 4:00pm. She promised to call me when she arrive and talk to me later. I waited her call on Saturday night, and Sunday night, but she didn't call. I went to school on Monday and of course she didn't come, because she told our school that she is going to be absent on Monday. So I thought that she was busy to call me or forgot our promise. After school, I came back to the home and found the note from my mom. And that said, "Bella! Call me when you get home; right after you see this note." She is always in a hurry whether it's important or not. Therefore I wasn't surprised by her note as usual. I picked the phone and dialed.
"Bella?" She knew it was me.
"Yes, it's me, Mom. What's…?" She cut me.
"Listen, I will explain this situation when you get here. Your dad will pick you up in 5 minutes. Ok? See you then."
"Mom!"
Beep!

She hung up. I thought it was weird, because she never hung up on me, never. But if she hung up, it means she has an emergency problem. After few minutes later, Dad got home. I looked up his face as I see him. His face was full up with pallidness, and he was dressed- up with black clothes.
"Hey, Dad! What happen…?"
"Bella, Listen. I want you to go up and change your clothes to black dress."
"But, why…?"
"Don't ask me questions yet. Please do what I asked you to do."
"….Okay..."

Something's wrong here. I couldn't guess what happening with them. I had a bunch of questions in my head, while I changed my clothes. When I went garage, my dad was already in the car, waiting for me.
"Okay, Dad. Now, tell me what's going on! I can't hold on."
"You will get to know when you get there."
"What you mean by 'There'?"
"…….Can you please hold on to it?"

Why is he being difficult? My head felt tangled and I got dizzy.

It was the hospital. The one that Caroline and I usually go to when we get sick. I opened my mouth to ask 'Why we are here?' but then I closed it, because I knew that he won't answer my question again, and he will get mad at me. We walked into the funeral service room and as he walked inside, my question popped. "Dad, where are you….?" I couldn't finish my sentence. Because I saw the picture of Caroline's face and flowers around it. She was smiling at me. It was a beautiful and perfect smile. My body frozen, my eye stopped to move, and my tears came out. I didn't notice that I was crying until my mom came to me and gave me a hug.

Even at that time, I couldn't believe that she died. I saw a picture of her, but I still couldn't. My body started shaking, and I could feel that. I barely talked to my mom, who is waiting patiently for me.
"So….?" I knew how she is going to answer that.
"…..As you…see…., Caroline….um…, she….is, in…heaven…..now…"
"……….." I couldn't reply, and my voice didn't come out.
"Bella…? Are you alright?"
"What happened to her?" My voice barely came out.
"Um…She got car accident one the way of her grandmother. One of the drunk drivers made wrong turn, and her car got crash. At that time, Caroline didn't put her seat belt on for a moment. And she died before she got in the hospital, because she got a lot of wound. Her parent is having hospitalization, so they are in hospital now. Also, they got shock from Caroline's death too. I am sorry Bella…."
My tears came out faster and faster.
"Do you want to go home or do you want to go up more closer to see…your friend?"
I walked to her smiley face. I sat down and stared at her for a long time. My brain didn't work well while I looking at her and try to think about her with my hand is on my necklace. Then I stopped to think, and I felt my blood flew upside down.
One thing that I was sure about is that my best friend Caroline left, but her heart.

That was how I said goodbye to her. And exactly for one year and a half, I had wandering days. I tried to calm myself down and control my feelings. I cried every night and sometimes I soliloquize like crazy girl.

This happen made me grow up more. It was huge part of my life time, and it's for big bubble. For the middle size of bubble, it reminded me the day with Lilly. The small bubbles are the word of my life skills and the ones that I will need forever; friendship, honest, caring, helpful, family, heart, hope, courage, and love with others. I could get over from the hardship, because those were constantly by me, and they made me to aware of myself.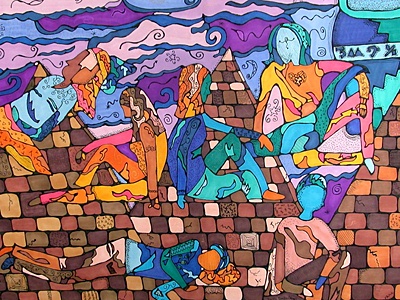 © Katie V., Gainesville, GA