Breanne (this is a vignette)
January 11, 2010
I'm not a person that encourages dramatic change, and in a couple of months I have to move to a completely new city! This gives me the chills. I feel that I must develop certain qualities with my peers here so when the time comes to move I can be a stronger person. The city I am currently residing in has been my home for the past seven years. My heart and soul has formed bonds with peers and other residents. Around the corner from my house lies a vacant lot. In this lot, my neighbors and I have started planting seeds. It is required that I plant seeds before I move. I want to grow plants that will enhance the rest of my time here, leave something behind to help future residents, and I want to develop these plants so once they have sprouted I can take them with me to my new city. I would also like the lot to resemble Heaven.

When I questioned a couple of my friends about what they are going to plant, I received responses such as "Niceness, coolness, happiness, etc." I don't understand these responses. I want to plant seeds that are personalized to me. Who would want to plant something that a billion other people are going to plant? I roll a different way. Planting something out of the ordinary will leave a definite mark on the future. I want to leave a mark. It means I'm different. Most of my peers are afraid of being different and stepping, thinking, and acting out of the box. I don't mind. I feel that stepping out of the box separates the fake people from the real creatures of God. However, I don't know what to plant quite yet. I have about a week before I have to plant my seeds.

Today, I went to visit the lot to observe what others are planting. When I looked around the lot, I saw BIG weeds growing, towering over the admirable plants. The sight scared me. The lot did not resemble Heaven; it resembled a place going towards Hell. Why are my peers planting seeds such as hatred, judgment, and exclusion? Even though the sight of the big disgusting weeds scared me, I almost expected it. My community is going downhill- forming cliques and not accepting people for who they are. My peers aren't forgiving others, but then when they do something wrong they don't understand why they are not forgiven. From personal experiences, the people here are not as kind and caring as they seem to be and I do not want future residents having the same situations occur to them. Do my current peers not want to go to Heaven?
Visiting the lot helped me decide what I want to plant and root out. The trip made me really think about what plants might have the most beneficial effects on the lot, what seeds to plant to make the lot Heaven. I feel the desire to plant acceptance. I have experienced not being accepted. What my peers do not understand is that not accepting others hurts a lot more than one would think. It tears a person apart on the inside thinking, "I'm different," "People don't like me," "Is anyone going to sit by me today?" "Am I going to be utterly embarrassed, again?" With much water, care, and attention that my acceptance plant deserves, it will make the lot one step closer to Heaven.
Another seed that is necessary to Heaven and the lot is a forgiveness seed. God says, "Forgive and you, yourself will be forgiven." In the past seven years I have learned about God. What I have learned is that everyone sins, everyone should be sorry, and everyone must be forgiven, no ifs, ands, or buts about it. I try to apply this to my everyday life. I strive to forgive before others have a chance to apologize. Forgiveness is like acceptance. What people do not realize is that the people around us are living, breathing mini Gods and Jesus'. When people don't forgive, it is almost as if they can't forgive God. I know I wouldn't turn down the face of God, the father. That is why when I forgive, I try to act like God and ALWAYS have an open mind, body, and soul to forgive for ANYTHING of ANY SERIOUSNESS ANYONE has done to me. Therefore, forgiveness is very important to the lot and me. Forgiveness will also help root out the nasty weeds, let the beautiful flowers take over, and make the vacant lot a more heavenly place.

The final seed I have chosen to plant is a change seed. Change can come in multiple ways, easy or difficult. Bringing change to my community is one of the harder forms change comes in. Some may think how they are acting is right, but sometimes it is not. Not forgiving, or accepting is like not forgiving or accepting God or Jesus. My community is in desperate need of change and my change seed will not only destroy the weeds, but it will make my community a better, healthier, place to be. It will make the lot look like Heaven on Earth!

I planted my seeds of acceptance, forgiveness, and change. Coming back a few days later to see the lot was a colorful place to be put a much needed smile on my face. I made a difference! The lot now resembles Heaven. The lot will now be a better place for me to live and a better place for future residents. The vacant lot has now become a growing garden. The people here at this new garden love the heavenly place the lot is and how everyone is now friends and there are no cliques. The small acts of making places resemble Heaven will make a bigger difference in the long run and will make the earth a better, accepting, forgiving, and bright place to be!

Not only did I change the lot, which has now become a gorgeous garden, I also plan to take a baby acceptance seed, a baby forgiveness seed, and a baby change seed to my new home. Doing so will develop better people and better relationships for all generations, all races, and all religious views! All people deserve to be accepted equally, to be forgiven, and most of all, all deserve to be loved like there is no tomorrow.

And remember, the people around us are LIVING, BREATHING mini Gods and Jesus' and one would never turn down God or Jesus.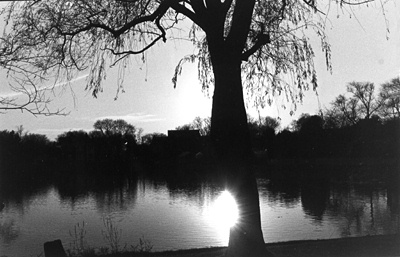 © Chuck K., Marblehead, MA